Slash and Mulch Sites Open – Mitigate Wildfire Risk
May 1, 2022
/
/
Comments Off

on Slash and Mulch Sites Open – Mitigate Wildfire Risk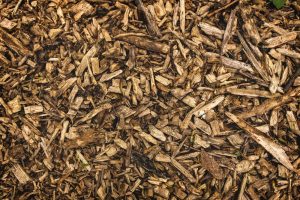 Spring has arrived and for many yard work, the raking, trimming and removing dead growth from landscaping is well underway. With the increased awareness of wildfire threats this year, many residents are choosing to re-imagine landscaping choices, removing tree limbs, shrubs and brush completely from landscape designs – in addition to the typical spring cleanup.
Douglas County provides two locations for residents to dispose of unwanted yard waste. The seasonal slash and mulch site located at 1400 Caprice Drive in Castle Rock is open on Saturdays from 8 a.m. until 5 p.m. through October 30. Residents can also pick up loads of fresh mulch from this site.
Additionally, Douglas County maintains a year-round slash and mulch site at 7828 S Hwy 67 (2.5 miles north of Deckers). The site is also open on Saturdays from 8:00 a.m. until 4:30 p.m.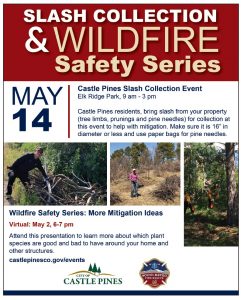 Acceptable items at both sites include tree limbs, pine needles, shrubs, brush with a maximum length of 6 feet and a maximum diameter of 12 inches. Please note all loads must be covered upon arrival at the slash-mulch site. To learn more about Douglas County's slash and mulch program, visit https://www.douglas.co.us/land/wildfire-mitigation/slash-mulch-program/.
City of Castle Pines residents have another option for slash and mulch collection on May 14th
Also Check More Mitigation Ideas | Wildfire Series in Our Events Section: << Click This Link>> Next Event on May 2nd
By Carin R. Kirkegaard