Critical Tool for Wildfire Response
May 1, 2022
/
/
Comments Off

on Critical Tool for Wildfire Response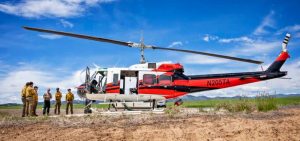 The Board of County Commissioners committed more than $1.3 million to the County's 2022 wildland fire aerial firefighting contracts, ensuring air support in Douglas County is available at a moment's notice in the event of a wildfire. This is the largest investment in aerial support in the County's history and one of the largest by local government in Colorado.
A contract with Trans Aero, LTD, for $1,044,600 will provide 153 days of exclusive use to Douglas County. A Type 2 helicopter capable of delivering 300 gallons of water to the front lines of a wildfire will be standing ready to respond throughout Douglas County from June 1 through October 31.
Additionally, three call-when-needed air support contracts were approved for use from April 13 to December 21, each for up to $100,000, providing additional firefighting resources.
Wildfires can strike in any season, in any neighborhood, and move extremely fast. Aerial support is an essential tool in suppressing a fire's growth and assisting firefighters on the ground as they work to save lives and property.
Residents can also prepare for wildfires by doing mitigation work on their property and creating a defensible space between vegetation and the home structure. Additionally, every member of a household with a phone can sign up for CodeRED notifications, to ensure receipt of emergency notifications in the event of a large-scale disaster.
To sign up, visit https://www.douglas.co.us/codered/
Also Check Out The Wildfire Safety Series | Mitigation Ideas in Our Events Section Next Event May 2nd <<Click the Link Here>>
Information provided by Douglas County