Slovenia: Gem of the Balkans
December 1, 2017
/
/
Comments Off

on Slovenia: Gem of the Balkans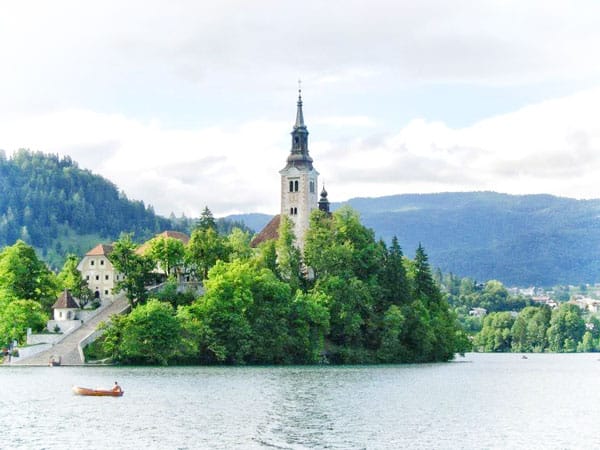 The Assumption of Mary Church, built in late 17th century. It's tower is 171 feet tall.
Article and photos by Joe Gschwendtner
For 40 years, communist Joseph Broz Tito dominated the Balkan Peninsula. After World War II, excluding Greece and Albania, this land of various ethnic groups became known as Yugoslavia. While the capital of Yugoslavia was Belgrade (in today's Serbia) Tito personally favored Slovenia, land of his birth and location of his summer palace in Bled. Here's why…
Slovenia is a small Switzerland: an alpine land of mountains, lakes, rivers, undulating terrain, and bonus seascape of 47 km. Sized like New Jersey with only two million inhabitants, it is a feast for the adventurer. One could easily spend two weeks, never tiring of activities available or breathtaking scenery. Its culture is similar to that of Austria and northern Italy and thus, its peoples have never been drawn into down-peninsula squabbles.
There are three unmissable Slovenian locations: the lakeside resort of Bled, the capital of Ljubljana, and the small coastal town of Piran, on the Adriatic Sea.
Two hours by car from Salzburg, Bled was founded in 1004. It is exquisitely sited on a glacial lake including an island, castle perched high on a cliff, and back-dropped by the Julian Alps. What Tito knew of her serenity, the rest of the world now discovers. Heavily promoted as an international destination, fairy-tale Bled has also gained currency as a stellar wedding venue. To this, my son and daughter-in-law will personally attest.
An hour south, Ljubljana is a city only in name. Its size and charm puts wings on your feet which will comfortably lead you through old town. Gifted with a river, a castle, numerous bridges parks and cafes, the outdoor scene is romantic and riveting. With good weather, you'll be hard pressed to move on.
Piran is a compact Venetian-like town to be wandered and enjoyed at cafes and seaside. Architecturally pleasing, have your camera handy to capture the many Italianate flourishes and settings. Potoroz, 2 km south, offers first-class swimming and a jumping-off point to Istrian Croatia.
The whole country warrants "circumnavigation." Consider the following additional attractions, all personally enjoyed and well worth your time:
Karst Region-Predjama Castle and Postojna Caves – If caves and underground labyrinths are your thing, you will not want to miss either of these.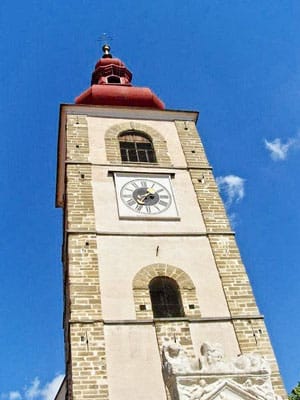 A shot of the Ptuj town tower built in 1907. Ptuj is a city of fairs, wine cellars and thermal springs.
Ptuj – (Pronounced "too-ey") has a history exceeding 2,000 years. Floral displays in the summer enhance structures dating back to Roman times. Light on hotels and restaurants, the town's architecture and charm make a short visit worthwhile.
Wine Region – Ptuj is the geographic center of the Slovenian wine region. Not widely noted, many Slovenian reds are comparable to Bordeaux vintage. Stop in Jerusalem to see clackers protecting the vineyards.
Adventure in the Julian Alps – A myriad of trails and rivers for all skill levels.
Lipica – East of Trieste (Italy) is the Lipica Estate, a massive stud farm where Lipizzaner show horses were originally developed and bred.
In the for what it's worth department, Slovenia is the birthplace of Melania Knauss Trump.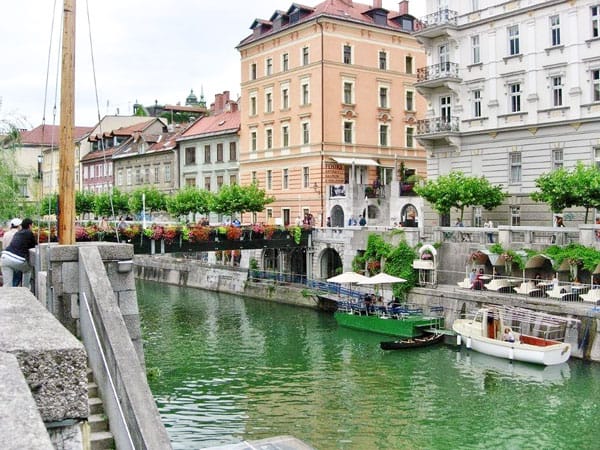 Street scene in capital of Ljubljana, a city small enough to explore all nooks and crannies.