May 1, 2013
/
/
Comments Off

on St. Bon's Cafe
St. Bon's Cafe in Highlands Ranch specializes in gluten-free fare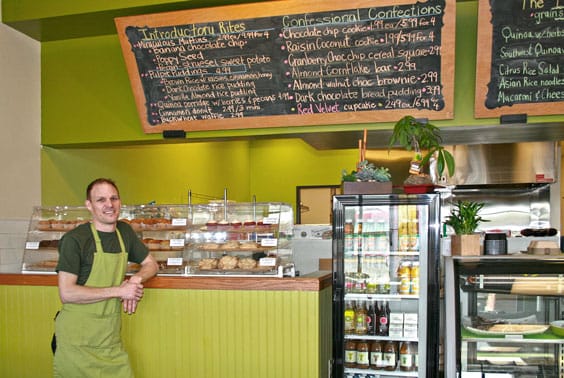 Kurt Fulwider is the owner of St. Bon's Cafe, a gluten-free deli and bakery, in Highlands Ranch.
Article and photos by Elean Gersack
Kurt Fulwider recently found his calling by creating a dedicated gluten-free cafe and bakery, St. Bon's Cafe. It is named in honor of St. Bonaventure, the patron saint of stomach disorders. In 2010, Fulwider was diagnosed with Celiac Disease and quickly discovered how stressful it was to dine out.
People who suffer from celiac disease cannot digest gluten – typically found in wheat, barley, rye, and sometimes oats – without damage to the intestines that impedes absorption of important nutrients. There is no cure for the disease, so those affected must eliminate gluten from their diet entirely.
"I wanted to create a place where people would feel normal and could order anything off of the menu," said Fulwider. Purposely, he crafted decadent offerings that would typically be taboo dining-out options for gluten-free individuals. Menu items include muffins, waffles, pasta and grain salads, paninis, cookies, mini-donuts, and brownies.
A few of Fulwider's favorites are St. Quentin's Quinoa (a mint, cilantro, pine nut and cranberry salad); Pope's Porridge (a delectable and hearty hot breakfast); and Blasphemous Bread Pudding (full of chocolate and custard).
Most importantly, at St. Bon's not only are the ingredients gluten-free, it is a one hundred percent gluten-free facility, so there is no risk of cross-contamination.
St. Bon's is located at 9425 S. University Boulevard in the Staples and Ross Shopping Center near Highlands Ranch Parkway. The cafe is open Tuesday – Friday from 7 a.m. to 6 p.m. and Saturday from 7 a.m. to 2 p.m. For more information, visit www.stbonscafe.com.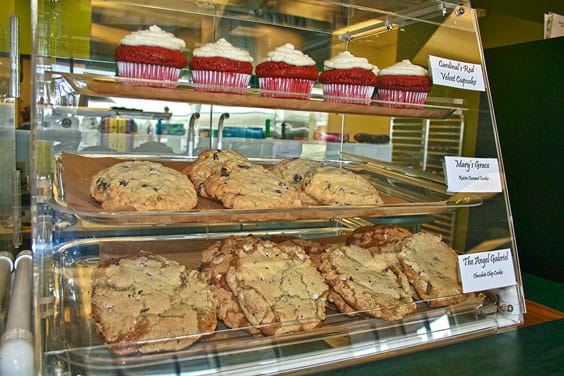 These raisin coconut and chocolate chip gluten-free cookies and red velvet cupcakes will rival any full-gluten variety.