Girls enjoy friendship and running
June 1, 2013
/
/
Comments Off

on Girls enjoy friendship and running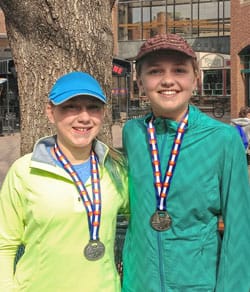 Chiara Robinson (left) and Brynn Peters (right) ran the Colorado ½ Marathon together. "I wanted to do this with my good friend, and it was so much fun!" said Peters.
Article by Amy Shanahan, photo courtesy of Marilyn Peters
Good friends Brynn Peters and Chiara Robinson set a goal for themselves that most thirteen year-old girls would not imagine. The girls ran the Colorado Half Marathon in Fort Collins together in early May. "We thought it would be fun to run 13 miles when we are 13," they remarked.
For Robinson, this was her second half marathon, having run the Colfax marathon with her mom last year. "My mom runs and she likes to watch me run and I really look up to her," explained Robinson. Peters ran a marathon for the first time and is now hooked. "It's tiring but it's so much fun … it's really addicting!"
The girls ran together for the first half of the half marathon, and Robinson finished in two hours and six minutes, beating her previous time by five minutes. Peters finished shortly after Robinson with a time of two hours and twenty-five minutes.
Peters and Robinson are currently in seventh grade at Rocky Heights Middle School (RHMS) and have been great friends since they were in third grade at Buffalo Ridge Elementary. Both girls are on the RHMS track team, and plan to run more marathons together in the future. "Once you start, it's hard to stop!" remarked Robinson.