"Annie" was brought to life in this wonderful production
May 1, 2013
/
/
Comments Off

on "Annie" was brought to life in this wonderful production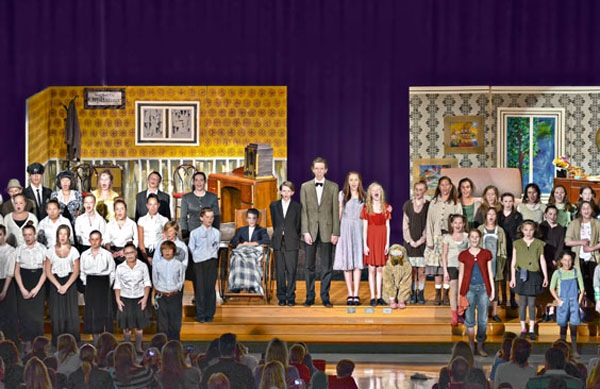 The production of Annie at Rocky Heights Middle School brought down the house! The cast and crew was made up of more than 100 students from sixth through eighth grade.
By Amy Shanahan; photo courtesy of eighth grade RHMS student Jason Lewis
The production of "Annie" at Rocky Heights Middle School (RHMS) set a new attendance record for the school and was an enormous success! The school held performances for three nights at the beginning of April, and the evenings were enjoyable for the students in the show, as well as, the friends, students and neighbors who attended.
The story of the orphan Annie and her trials in the orphanage and eventual happy ending with Oliver Warbucks is familiar to most, but it was brought vividly to life and made enjoyable in the middle school setting. Choir and drama teacher Susie Ritter and drama teacher Maclain Looper oversaw and directed a cast of more than 100 students, and 14 crew members. It was an enormous effort and the outcome was tremendous.
Leading the show with her exquisite voice was eighth grade student Claire Sweeney, who played the role of Annie. Sweeney was an understudy in last year's musical production of "High School Musical" at RHMS, and she was thrilled to be chosen as the lead. "I was so excited and a little bit shocked when I found out," remarked Sweeney. "It felt like I was dreaming!" Sweeney credits Ritter with the huge success of the show. "Miss Ritter provided amazing opportunities for all of us. It wouldn't have been the same without her!"
RHMS performs one play and one musical each calendar year. For more information about RHMS, visit www.RockyHeights.org.