Douglas County off-leash dog parks offer recreation, freedom, and fun
July 1, 2013
/
/
Comments Off

on Douglas County off-leash dog parks offer recreation, freedom, and fun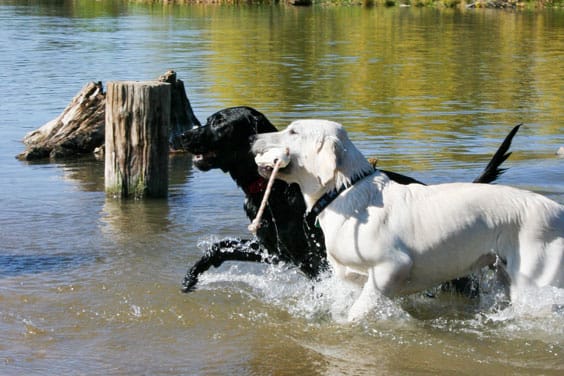 Information provided by Douglas County
While the Castle Pines community is rich with open space and trails on which to take canine companions, Douglas County leash laws require any dog outside of a fenced yard to be kept on a leash. Controlling a dog by voice command is not considered synonymous to a leash. There are, however, a multitude of off-leash options available for our furry friends, some closer than you may think.
Douglas County maintains four dog parks, complete with pet waste removal stations and public restroom facilities. These dog parks are open one hour before sunrise until one hour after sunset. For information or questions regarding Douglas County dog parks, call 303-660-7495 or visit www.douglas.co.us.
Glendale Farm Open Space
Glendale Farm has a 17-acre off-leash dog park that is perfect for getting some exercise with your dog. The park is adjacent to 1.6 miles of Glendale Trail, where dogs are required to be on a leash to protect the sensitive habitat of the area. Take exit 188 Castle Pines Parkway, turn right at exit and proceed to the east frontage road; turn left on the frontage road and travel north approximately 1 mile to the dog park on the east side of the road.
Bayou Gulch Regional Park
This park provides 2+ acres of off-leash fun for man's best friend on the east side of Fox Sparrow Road in Parker. The dog park area is adjacent to 2.5 miles of soft-surface trails that require dogs to be on leash as a courtesy to other trail users and wildlife. Take Parker Road south to Bayou Gulch Road; travel east one mile and turn north on Fox Sparrow Road. The dog park is on the right (east) side of the road.
Fairgrounds Regional Park
Located in downtown Castle Rock, this park has 2+ acres in the eastern corner of the park for an off-leash doggone good time. From downtown Castle Rock, take Wilcox to Plum Creek Parkway and turn east. Take a left at the third entry into Fairground Regional Park and turn right into the upper parking lot. The dog park may be accessed from the park's main entrance; however, the off-leash area is in the easternmost point of Fairgrounds Regional Park and dogs in other sections of the park must be leashed.
Greenland Open Space
Devon's Dog Park, a 16.5-acre dog park, is located on the east side of the Greenland Open Space trailhead in Larkspur. Take I-25 to the Greenland Exit 167 and go west and follow the gravel road 3/4 mile to the Greenland Open Space Trailhead. Devon's Dog Park is located at the east end of the trailhead parking lot.
Other Area Dog Parks
Highlands Ranch Metro District maintains four off-leash areas (www.highlandsranch.org); South Suburban Parks and Recreation maintains one (www.ssprd.org); and don't forget nearby Chatfield State Park's 75-acre off-leash area, (www.parks.state.co.us), which requires a fee.
Please be respectful of the law and your neighbors by keeping dogs on a leash when not at a dog park.