Girls volleyball team bumps, sets and spikes its way to championship!
July 1, 2013
/
/
Comments Off

on Girls volleyball team bumps, sets and spikes its way to championship!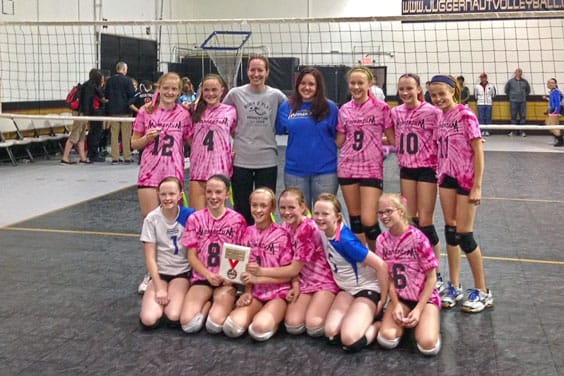 Head coach Elsa LeGrand and assistant coach Vanessa Hacker worked tirelessly with the girls on their U12 volleyball team. The season will culminate in a trip to Dallas, Texas to play in the Junior National Tournament. Many of the players are from Castle Pines.
By Amy Shanahan; photo courtesy of Blake Thomason
The Gold Level Momentum Volleyball Club for twelve-year-old girls recently spiked their way to a huge victory! Made up of many girls from Castle Pines, this premiere team has only played together for one season, but their camaraderie and teamwork were evident when they placed second in the Junior National Qualifier Tournament on May 5.
The road to the tournament involved a great deal of effort and practice. The girls began practicing in early November and their arduous schedule included six hours of volleyball, two hours of Elite Speed training and one hour of yoga each week. The team played two to three tournaments each month in January through April, and their performance at these tournaments determined their seed for the Junior National Qualifier tournament.
Eight teams in the region qualified for the final tournament and the Momentum girls entered as the fourth seed. Their performance earned them the second place finish and a trip to the Junior National Tournament in Dallas, Texas on June 28th. Castle Pines resident Lily Thomason couldn't believe they played so well and earned a top spot. "I was so happy and excited, it was like it wasn't real. I guess I thought that moment would never come!"
While in Dallas, the Momentum Gold team will play the best teams from all over the country. The girls will potentially play five matches with the goal of playing in the championship match on July 2. Team player and Castle Pines Village resident Courtney Lane remarked, "This is a really big honor since only two teams from our whole state go to this tournament. I can't wait to see how we stand up against the best teams in the country!" Regardless of how they perform in Dallas, this experience will always be a point of pride for these girls.