BRE fourth grader named state ambassador for Fuel Up to Play 60
June 1, 2013
/
/
Comments Off

on BRE fourth grader named state ambassador for Fuel Up to Play 60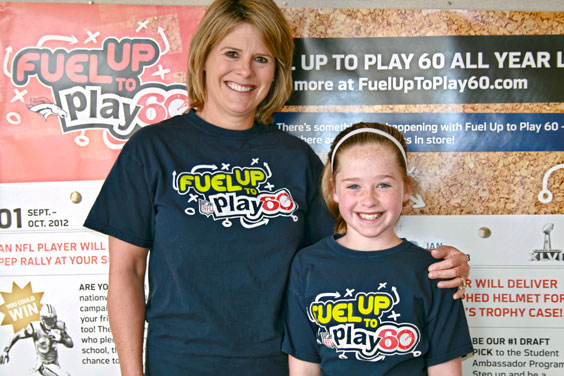 Lauren Champine, a BRE fourth grader, was selected as one of two State Ambassadors from Colorado for the Fuel Up to Play 60 Program. Champine is pictured with her Physical Education teacher and Fuel Up to Play 60 advisor, Ronda Gutierrez.
Article and photo by Elean Gersack
Lauren Champine loves to be active. She plays competitive soccer, has been skiing since age five, and she swims and dances whenever she has the chance. On top of that, she is a stellar student. It's no wonder she was selected to take part in the Buffalo Ridge Elementary (BRE) Fuel Up to Play 60 program during its inaugural year (2012-2013).
Fuel Up to Play 60, created by the National Dairy Council and the NFL, teams up with schools to promote childhood wellness through proper nutrition and 60 minutes of physical activity each day.
BRE physical education teacher Ronda Gutierrez selected Champine to be a fourth grade student ambassador who would help encourage wellness to classmates school-wide. "Lauren is a great leader. I chose her because of her leadership qualities and because her peers respect her," said Gutierrez.
As part of the Fuel Up to Play 60 Program, student ambassadors can do even more by applying to become a state ambassador. Champine applied and was selected as one of 54 state ambassadors and only one of two from the state of Colorado. More than 1,000 students applied for this prestigious honor.
"State Ambassadors, along with five National Ambassadors, lead the Fuel Up to Play 60 Student Ambassador Program, which engages youth directly as grassroots leaders to increase access to nutrient-rich foods and 60 minutes of physical activity at school. From smoothie stations to walking clubs, Fuel Up to Play 60 helps students create healthier school environments in nearly 73,000 schools nationwide," said Peggy Middendorf, program director for CustomEd, a non-profit organization supporting the Fuel Up to Play 60 Program.
Champine's first order of business will be to travel to a leadership summit in Charlotte, North Carolina in July with her advisor, Gutierrez. "The summit provides student ambassadors the opportunity to meet their fellow leaders and help sculpt the program, which relies on the input and participation of students to grow and evolve. Students will learn leadership and communication skills and will have the chance to meet NFL players and other inspirational public figures during the summit," shared Middendorf.
Upon her return, Champine hopes to have more knowledge and inspiration to share with her school and community. "I want to make positive improvements in our school and in the state with healthy eating and exercise. I hope to make our school one of the healthiest in Colorado!"