Students steer clear of distracted driving
December 1, 2016
/
/
Comments Off

on Students steer clear of distracted driving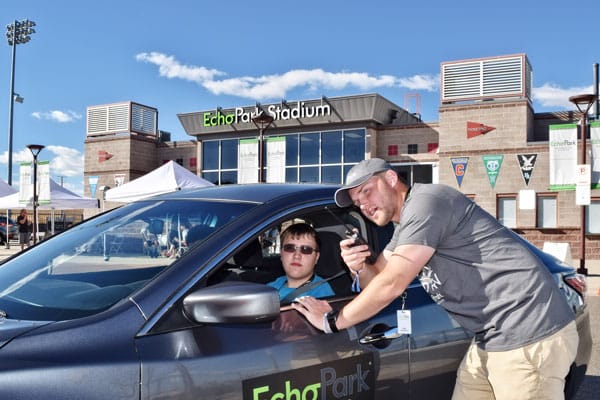 Performance driving instructor Ben Waddell gave tips on how to manage the slalom course to Alex Coudeyras.


Article and photo by Lynn Zahorik
Local used car dealership group EchoPark Automotive (EPA) recognized the challenges of driving in today's society and wanted to do its part to help teens learn about the dangers of distracted driving.

On October 29, 100 high school students from across Douglas County participated in a hands-on distracted driving seminar at the EchoPark Automotive Stadium in Parker. The hour-long seminar covered accurate seating position, mirror adjustment, proper vision techniques, shuffle steering, a slalom course, and the anti-lock braking system (ABS). Participants also engaged in driving exercises that help teens experience diminished driving capability due to distractions.
Marti Eulberg, director of brand management for EPA, is excited about the partnership they formed with Douglas County School District (DCSD) through their stadium sponsorship which started in June. "This is a great opportunity for us because nine high schools actually play football at the stadium," declared Eulberg. "It is a perfect venue at which to teach distracted driving and really give back to the communities in which we live and work. We want to make the students safer drivers and in turn make the roads of Denver safer because we have taught them the skills. Our role in the community is bigger than buying and selling cars."
Derek Chaney, director of activities and athletics for DCSD is pleased with the success of the complimentary distracted driving events EPA has organized and indicated there has been positive feedback from both parents and students. Rock Canyon High School junior Alex Coudeyras was one of the students who participated in the seminar. "It was a great class for building confidence and reflexes," stated Alex. "I had a lot of fun." His mother Melissa Coudeyras commented, "I thought it was nice of EchoPark Automotive to offer this class to support new drivers. It helps build confidence and offers some situations that we, as parents, can't duplicate."
To learn more about Colorado's driving safety laws and distracted driving visit www.codot.gov/safety.
– In 2015, 68 deaths and 15,574 crashes involved Colorado distracted drivers. Any activity that could divert a person's attention away from the primary task of driving is considered distracted driving.
– 77 percent of teens feel confident that they can safely text and drive. Fact is, texting while driving makes you 23 times more likely to crash.
– Not only is it unsafe to text and drive, it is illegal (for all ages) in the state of Colorado.