For love of God and country
November 2, 2016
/
/
Comments Off

on For love of God and country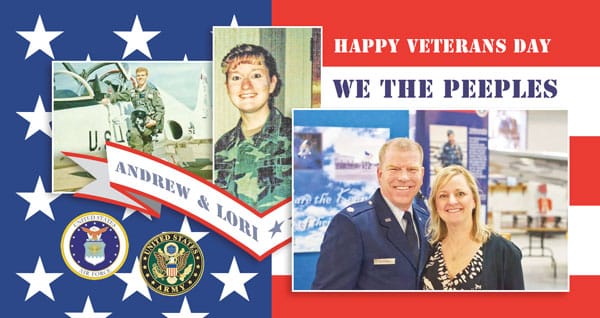 Collectively, Castle Pines residents Andrew and Lori Peeples have proudly served for 32 years in the United States military. Andrew was a pilot in the United States Air Force, and Lori was a communications officer for the United States Army. We are honored to have such dedicated veterans as our neighbors.
By Lynn Zahorik; courtesy photos
The military lineage runs deep in the Peeples family. Growing up a Navy brat, Andrew Peeples knew at a young age that he wanted to be like his dad who served 23 years in the military. At the age of 17, Andrew joined the Air Force ROTC program at the University of Colorado. Lori Lovsted, while a sophomore at the College of St. Benedict in Minnesota, discovered the benefits of an Army ROTC scholarship when seeking financial support for her last two years of college. She was the first person in her family to join the military.
Lori was commissioned in the United States Army in 1989. She served on active duty until 1998 and held the rank of captain. As a communications officer, Lori was based in Georgia, Korea and Germany. "Leading teams of soldiers in foreign countries and war zones was quite rewarding," remarked Lori. "It was an honor to serve with such amazing men and women." Lori retired when her oldest son was born.

The Peeples family gathered together at Lieutenant Colonel Andrew Peeples' Air Force retirement ceremony in Parker in 2014. Left to right: Nate Walker, Matthew Walker, Lori, Andrew, Andy, Susanne and Catherine Peeples.

Andrew was commissioned in the United States Air Force in 1990. "My first challenge was completing the rigorous Air Force undergraduate pilot training program with two young children under the age of three," said Andrew. "Twelve-hour days for an entire year, weekly check-rides, and tests were grueling, but helped shape me into a better Air Force pilot who can handle stressful environments." As a pilot, Andrew spent time at six different Air Force bases. He flew to 25 different countries and participated in several military operations in Europe, Bosnia and the Middle East. He retired as a lieutenant colonel in 2014 with more than 23 years of service.
Two decades after entering the military, both Lori and Andrew found themselves single and managing parenthood on their own. Their paths intersected through their mutual belief in family and God, as well as the assistance of a faith-based online website. Their first date was attending church together.
After three years of courtship, Lori and Andrew tied the knot in April 2016 at Buckley Air Force Base. Their blended family includes Lori's sons Nate and Matthew, and Andrew's adult children Susanne, Andy and Catherine. Andy, a member of the Air Force Reserves, is seeking an active duty enlistment in 2017.
No longer consumed by the demands of the military, the Peeples have poured their energy into other pursuits. Andrew is a pilot for United Airlines, and Lori is the local owner and director of the soon-to-open Omega Learning Center in Castle Pines (see page 13).
The couple agrees, "The people who serve in the military and their families make tremendous sacrifices. Yet, it is very rewarding and is more of a family than any civilian career can ever be. We highly recommend military service to anyone who is eligible to serve."