Sumptuous cranberry scones for summer
July 31, 2014
/
/
Comments Off

on Sumptuous cranberry scones for summer
Article and photo by Lisa Crockett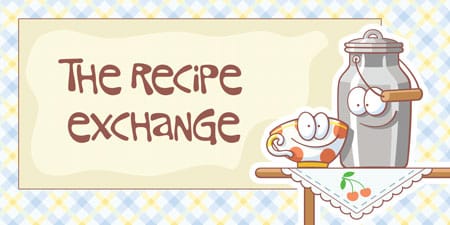 I
t's August. For many of us, this month marks a return to normal life – if not right this minute, then soon. School starts, vacations wind down, and after the dog days, a hint of fall is in the air. But it's still summer. Still time for long, lazy days enjoying the sunshine. There's still time to linger over a meal, especially with the harvest now going full blast.
One of my favorite menu items this time of year is fruits and veggies served as close to their natural state as possible. Colorado peaches and pears are "on" at the supermarket and the farmer's market, and crisp, mellow apples will be here in a matter of weeks. Juicy and sweet, they almost make a meal on their own. Almost.
At our house, I like to whip up something to go with the fruit to make mealtime a little more satisfying and balanced. Summer is also the perfect time for brunch – if you've taken a last chance to sleep in before "real life" resumes, brunch is the perfect meal. Early enough to satisfy growling tummies, but late enough that you just might be able to get away with preparing only two meals instead of three.
The scones I've featured here are a great alternative to pancakes or waffles and are hearty enough to be filling without being heavy. To make a meal even more substantial, whip up some simple scrambled eggs. The scones come together in a flash, and are best fresh from the oven. If you're feeding a crowd, double the batch and then prepare to watch them disappear.
Don't be intimidated by "cutting" the butter into the mixture and handling the scone dough. A lot like making pastry, scones are flaky because tiny pieces of butter are coated in flour during mixing, and then melt when they are baked.
Unlike many pastries, however, scones are very forgiving so they're a great way to get used to the technique. You can use forks or even butter knives to cut in the butter, but I strongly recommend spending a few dollars on a pastry cutter because it makes mixing these up a snap.
These scones are sweet but not overpoweringly so. The sweetened dried cranberries add some tang and flavor that compliment fresh fruit perfectly, but you can easily leave them out if you prefer. If you get a hankering for these later in the day, consider omitting the cranberries, slicing the scones in half lengthwise after they are baked and layering them with sliced berries and fresh whipped cream for a sumptuous short cake. No matter which way you choose to serve them, be ready to make another batch; it's hard to stop at just one.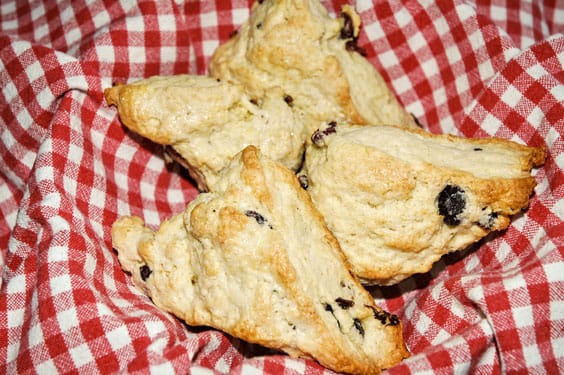 Summer Scones
2 cups flour
3 tablespoons sugar
1 tablespoon baking powder
1/4 teaspoon salt
6 tablespoons cold butter
1/4 cup sweetened, dried cranberries
1 beaten egg
1/4 cup orange juice
1/4 cup plus one tablespoon heavy cream
2 teaspoons sugar
Preheat oven to 400 degrees. Combine flour, 3 tablespoons sugar, baking powder, and salt in a bowl and mix with a whisk until well combined. Cut butter into about 12 cubes and then cut butter into the flour mixture using a pastry cutter, until butter pieces are about pea sized. Stir in cranberries. In another bowl, combine egg, orange juice and 1/4 cup heavy cream, then add to flour mixture and stir until mixture is moistened.
On a floured surface, knead dough, turning it about 10 times until dough is smooth. Pat dough into a rectangle about an inch thick. Cut dough in half lengthwise; cut each half into thirds, then cut those pieces in half to make triangles. You should have 12 triangles. Place scones on an ungreased baking sheet and brush with remaining tablespoon of cream, then sprinkle with remaining two teaspoons of sugar. Bake for 12 to 15 minutes or until lightly golden.