Taquitos That Are a Breath of Fresh Air
May 1, 2022
/
/
Comments Off

on Taquitos That Are a Breath of Fresh Air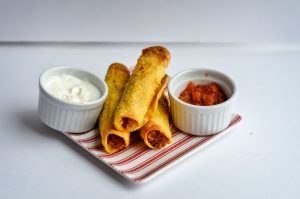 Since I can remember, I have loved having a new toy. I have lived half a century, and I still get excited when I open a box, painstakingly unpack some new treasure, and take it out for a whirl. I get toys for all the parts of my house, but of course my favorite gadgets are found in my kitchen. Left to my own devices, I'd purchase a dedicated tool for every job, but the constraints of my budget, along with the lack of real estate in my kitchen cabinets means that I need to think twice before I purchase yet another small appliance. So, I'm late to the air fryer party, but at the urging of a friend, I carved out a small space between the Crock-Pot and the KitchenAid mixer and made a home for a compact model. And I'm here to tell you, this one is a game changer.
As a self-professed food lover, I'm vaguely embarrassed to admit that several times a week I pull something out of the freezer, stick it in the oven, and serve it on a platter for dinner. This approach interferes with my image as an accomplished homemaker, but it's the truth. In honesty, a lot of the frozen foods I buy are quite delicious, and getting dinner on the table each and every night is a small miracle, so using the freezer as a tool is an important part of my strategy. Still, there is something a little lacking texture-wise with some of these foods, something that leaves me a tiny bit unsatisfied. Enter the air fryer: Those frozen chicken fingers that always seemed weirdly chewy become crispy and also tender. Fish fingers came out crunchy and warm, ready to fall into a warmed tortilla with cabbage and savory dressing. Even frozen French fries were no longer soggy and limp, not to mention leftover ones from your favorite restaurant.
I have no idea how my new toy works its magic. Something about circulating warm air around my food, rapidly transforming the cold and tough into the warm and soft. Of course, food from scratch can be air fried, too (though I have yet to do much of that). I especially love taquitos, and I often pick up a takeout order this time of year as a nod toward the Cinco de Mayo holiday. The deep-fried goodness of this Tex-Mex appetizer is one of my favorite indulgences. But I must admit that after eating them, I'm often a bit bloated and lethargic. I threw together a batch of these for dinner, and in about the time it would have taken me to drive to a restaurant and place an order, I had these on the table. They looked like the real deal. Unlike baking a taquito, which leaves the shell a bit tough, the air fried version created a crispy, light exterior. As I took my first bite, the tortilla shattered pleasantly in my mouth. In minutes, there was nothing left but a few crumbs.
Missing from this (and lots of other air-fried items) is a certain greasy richness. So, could I honestly say that this taquito is the same as the OG? No. But when I took the last bite of my meal and gently placed the air fryer in its newly-created place in my pantry, instead of falling on the couch in a junk food coma, I was ready to take a long walk in the gentle May sunshine. It felt like walking on air.
Article and photo by Lisa Crockett