Terri Wiebold, The Castle Pines Connection
January 1, 2020
/
/
Comments Off

on Terri Wiebold, The Castle Pines Connection
Sharing a little good news
By Susan Helton; photos courtesy of Terri Wiebold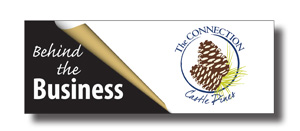 Owner and publisher of The Castle Pines Connection, Terri Wiebold, lives in Parker but calls the Castle Pines community her home away from home. "I am very emotionally connected to Castle Pines, but living outside the community helps me to stay objective," said Terri. "Plus, I can go to the grocery store in my sweats and baseball cap and not need to be 'business ready,'" she joked.
Terri grew up in a military household with her parents and brother and has lived all over the world – from the Philippines to Germany to both coasts of the U.S. "Until I was an adult, I never lived anywhere for more than four years," recalled Terri. Her dad retired from the military when she was in high school and the family settled in the Sacramento area. Terri was very athletic, lettering in varsity cheerleading and gymnastics. "I wasn't six feet tall then," remarked Terri. "I should have been a volleyball or basketball player." Terri went on to receive business and marketing communications degrees from California State University, Chico and she modeled part time to help pay for college.
After graduation, Terri worked as a police officer/firefighter/EMT in the Bay Area, one of six women in a department of more than 200. "It was a fantastic job, and I was fortunate to experience a lot of unique opportunities" she stated. On the job, Terri carried her [firefighter] turnouts in the trunk of her patrol car and would exchange her gun belt and bullet-proof vest for firefighting gear when responding to a structure fire call. "The military and first responders will always hold a special place in my heart."
Terri and her husband Bob, an airline pilot, came to Colorado to put down roots and start a family when Denver International Airport was just opening. Their children are now in college: Brett (21) at Colorado School of Mines and Taylor (18) at Colorado State University.
Away from work, Terri enjoys time with her family and her dog, Buddy. She looks forward to this next "empty nesting" phase of her life, and she hopes to travel with Bob more in the coming years – somewhere tropical and warm. "I am married to my best friend, and I am so excited to get to grow old with him," said Terri.
Terri loves going to the movies. "They're my absolute guilty pleasure," she admitted. "I like all kinds – except horror. My daughter and I binge watch romantic comedies, and I have her hooked on all the classics from the '80s. I am definitely a sucker for a happy ending."
Terri started working in the Castle Pines community more than 15 years ago as a freelance writer covering public safety stories. Her inspiration behind The Castle Pines Connection and delivering a little good news comes from an Anne Murray song that speaks to all the negativity in the world and how, "We sure could use a little good news today." Terri's desire to create a sense of community and connect people in a very positive way by sharing their good news is what drew her to the business.
Terri works mostly from her home office but greatly enjoys getting together with her staff once a month for planning meetings. "I work with such an amazing group of people!" exclaimed Terri (who has a pet peeve against using exclamation marks). "I try to keep my personal bias out of the newspaper, but I'm a woman of faith, which I believe keeps me grounded and spiritually connected to the people and world around me. I will forever be grateful to the Castle Pines community for partnering with me on this journey."