Blue Island Oyster Bar and Seafood
August 1, 2022
/
/
Comments Off

on Blue Island Oyster Bar and Seafood
The man behind the oyster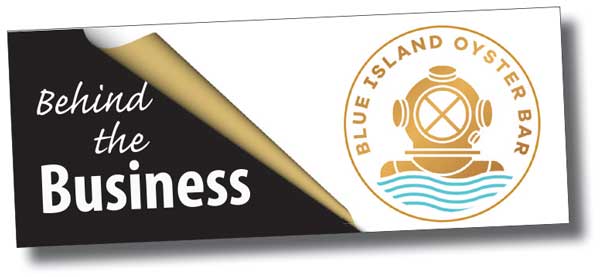 Blue Island Oyster Bar and Seafood opened its second location in Lone Tree earlier this year, and it has become as popular as the flagship Cherry Creek locale. Owner Sean Huggard's title is Chief Decision Maker, a moniker he gave himself, saying that "CEO" or "president" was too serious for a restaurant owner.
"I'm not delivering babies or the president of Amazon," Huggard said jokingly. "At Blue Island, we take everything –from procurement, to service, to food – very seriously, but we also want to be approachable and a fun dining experience at both locations."
The specialty, of course, is the oysters, and Huggard talks about them with a lusty voice. The East Coast varieties are trucked in twice a week from Blue Island Oyster Co. in Long Island, and the West Coast oysters are flown in daily. When oysters are caught, they clamp down and hold tight, and that mouthful of seawater keeps them naturally fresh for weeks. "Our oysters are never frozen and some of the best oysters in the world," he added.
Huggard was born and raised south of Boston in Easton, Massachusetts, the son of a used car salesman. He grew up washing cars and sweeping the lot, but it was important to his parents that he get an education and not follow in the family business. One fateful day, Huggard's dad sold a catering van to a deli owner who needed some help chopping up chicken in his kitchen, and that is how the future restaurateur began his career.
In high school, Huggard found luck again. He worked under five chefs who had graduated from The Culinary Institute of America and had moved to Easton to open an Italian restaurant. "The job supported my motorcycle habit," Huggard quipped. "But I knew where I was headed when I would skip class to go cook."
The chefs insisted Huggard attend their alma mater and he attended school in the winter while working as an executive chef on Nantucket in the high season.
The owner of the Nantucket restaurant hailed from Denver and said that he wanted to start a restaurant in his hometown. In 2005, Huggard moved to Denver and partnered with the owner to open a restaurant on South Pearl Street, a time when Denver was just coming of age in haute cuisine.
Destiny stepped in again at the restaurant's bar on South Pearl – a girl named Jennifer – and Huggard was hooked. The two later married and settled in Applewood and then moved to the Highlands.
Huggard admits that he does not have a lot of hobbies nor did he have the traditional early adult experiences. "I killed myself in my 20s and 30s working in a kitchen for 100 hours a week," he said. "I missed a lot, like traveling or seeing friends."
Today, Huggard doesn't do much outside of running his businesses except relish time with Jennifer, their three children and two dogs. They like to travel as a family and have been to Puerta Vallarta and Costa Rica. The Huggards recently moved to The Village at Castle Pines for the lifestyle here and to be closer to the Lone Tree restaurant.
Huggard is looking down the road toward a third Blue Island restaurant – around the greater Denver area, possibly Denver International Airport and some out-of-state markets.
"I came up in the restaurant industry in Denver and am proud to be a local business owner and employ Coloradans," Huggard said. "I would put Blue Island seafood up against any other restaurant, anywhere, coast to coast."
By Hollen Wheeler; photo courtesy of Sean Huggard