We all scream for … cottage cheese?
July 27, 2023
/
/
Comments Off

on We all scream for … cottage cheese?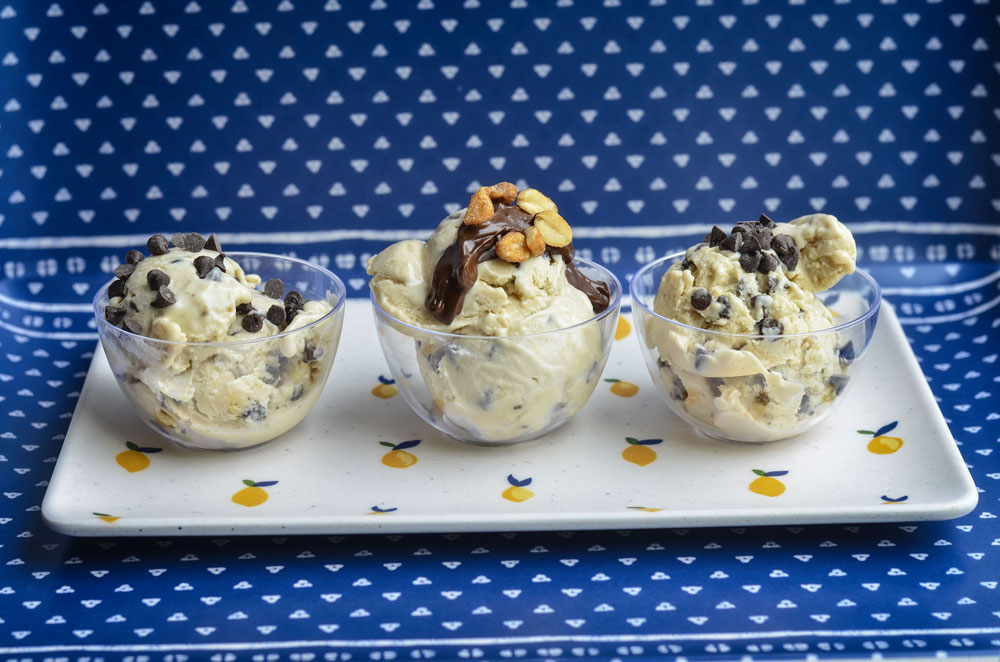 Here we are again, the dog days.  This is the time of year when I crave all the summer foods – things that are crunchy, creamy and above all cool.  In the summer, I love ice cream above all other foods, and if it were healthy, I'd eat it for breakfast, lunch and dinner.  Alas, ice cream isn't really a health food (although it does provide a good dose of calcium), so I'm often on the lookout for a new "nice cream" recipe.  For many years I've blended a frozen banana with a splash of almond milk for a creamy, summery treat.  The creaminess of a banana (especially one that has had ample time to ripen and get spotted) makes for a bowl of goodness that comes pretty close to the real thing.  The only drawback is that the resulting dessert is always banana flavored, which means my tastebuds get bored.
The latest in healthy food trends is not bananas (that's so 2018).  Instead, it features an ingredient that's been around in some form for millennia: cottage cheese.  I often blend cottage cheese to use as a spread for toast or bagels, or as a dip for veggies or crackers, but the thought of using it as a dessert would not have occurred to me.
In the last six months, though, nearly any time spent online looking for recipes will inevitably reveal a cottage cheese dupe for cookie dough, cheesecake or ice cream.  While cottage cheese (especially the full fat version, which tends to work best) isn't much lower in calories than the traditional ingredients for these treats, it is dramatically lower in sugar and higher in protein.  There is a case to be made that cottage cheese "ice cream" could be justification for eating ice cream as a meal, which would make all my dreams come true.
For my first attempt, I decided that using berries as my ice cream flavoring agent would be in keeping with the overall healthy attitude invoked by the dessert.  So, I blitzed the cottage cheese, added a bit of maple syrup, and gently folded in beautiful fresh berries.  I froze the mixture, stirring periodically, until it reached a consistency that looked pretty much exactly like ice cream.  I was craving a cool treat, so I scooped a generous helping and took a bite.  It tasted … like cottage cheese with berries.  It wasn't bad but it really didn't taste like a decadent dessert.
I determined that the problem was that the berry flavor wasn't quite powerful enough to balance the salt and the tang of the cottage cheese.  So, I went back to the drawing board.  I decided to add peanut butter powder to the cottage cheese base.  The peanut butter powder (easily available at any grocery store) is much lower in fat and calories than regular peanut butter, so it seems in keeping with the healthy-ish nature of this dish.  Peanuts are a stronger flavor than berries, and also one that pairs with the saltiness of the cheese in a much more complimentary way.  Still, the mixture wasn't quite sweet enough to taste like dessert, so I added a frozen banana.  As I mentioned before, banana ice cream can get a little tedious, but in this case, it makes things sweet and creamy but the flavor is quite different from my standard banana blend.  I finished the product with a light sprinkling of miniature chocolate chips.
The result tastes only faintly of bananas and is sweet enough to feel like a treat.  I wouldn't say it tastes exactly like ice cream, but it does taste good.  And when I'm done, instead of immediately wanting another bowl, this more nutritious option leaves me simply satisfied.  Choosing something healthy and delicious?  Well that just makes me feel warm from the inside out, no matter what the weather is like outside.
---
Cottage Cheese Nice Cream
16 ounces cottage cheese (full fat creates the creamiest consistency)

2 tablespoons maple syrup or honey

1 teaspoon vanilla

¼ cup peanut butter powder

1 frozen banana

¼ cup miniature chocolate chips
In a high-speed blender or food processor, combine all the ingredients until smooth.  When the mixture is creamy, gently stir in the chocolate chips.  After mixing, the mixture will have a soft, milkshake-like consistency and can be consumed immediately.  For a firmer, more "scoopable" texture, pour into a loaf pan and freeze for two to four hours until desired consistency is reached.  Leftovers will be a bit icy, but still delicious for an additional two or three days.
---
Article and photo by Lisa Crockett