What's your APPtitude? Have an adventure with Lifeline
August 1, 2018
/
/
Comments Off

on What's your APPtitude? Have an adventure with Lifeline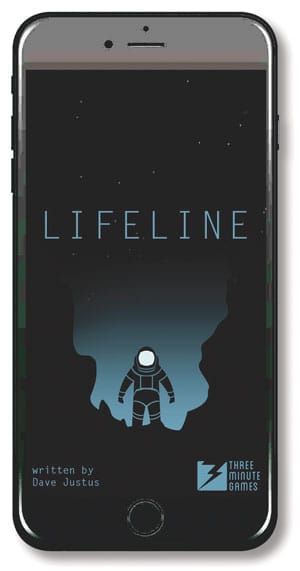 By Amanda Merriman
On a search for apps that do not use Wi-Fi, I came across Lifeline. Lifeline is a text-based game with a branched storyline. The app costs $1.99 to download on Android or Apple devices (including the iWatch). However, my teenage son downloaded it previously, which allowed me to put it on my phone without any extra expense.
One might think that a text-based game could not possibly be engrossing, based on all the games available today. However, once the story starts, players are drawn in. Players will meet Taylor, a stranded astronaut whose ship crashed on a distant moon. As Taylor explores the seemingly desolate landscape, life and death decisions await. You are the sole point of contact and a sounding board for this unlucky traveler.
As a child, I was a huge fan of the Choose Your Own Adventure book series. I cared about the characters and felt sad if I made the wrong choices. This game felt exactly the same as those books from yesteryear. When in real-time mode, the story plays out over a few days. Taylor reaches out with a situation and question, you give guidance and then wait for the next communication. Suspense builds as the plot moves along. If you make the wrong call and Taylor does not survive, you have the option of rewinding the game to the beginning or back to a specific choice.
I enjoyed how Lifeline leaves Taylor's characteristics a mystery. For instance, readers can decide for themselves if Taylor is male or female. After I had to rewind the story a time or two, (so sorry Taylor!) I did decide to switch to the fast mode in order to move things along a little quicker. It was fun trying different decisions and learning the outcome. Spoiler alert, I thankfully saved Taylor after some effort. I did find the ending of the game a little abrupt, though it seems like the developers are planning for the adventure to continue in another edition.
Lifeline is easy to play and appeals to a wide audience. It does have some mild language and some perilous situations, so it is most appropriate for teens and older. I had fun talking about the game with my son, who enjoyed it as well. For a quick and entertaining game that doesn't need Wi-Fi, Lifeline delivers.