"Wisdom in Uniform:" A story of courage and honor
November 1, 2012
/
/
Comments Off

on "Wisdom in Uniform:" A story of courage and honor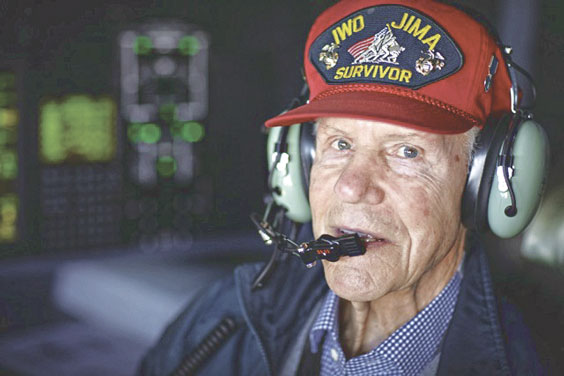 Jim Blane – a veteran of Iwo Jima.
Contributed by the Front Range Theatre Company and Castle Rock Senior Center
Many people get caught up in their daily lives and don't stop to consider that possibly a person in line at a store may have lived through extraordinary experiences, and that they may have served our country in places far away under brutal circumstances. Such veterans do live among us in Douglas County, and they have powerful stories to tell.
Celebrate the veterans in our community by attending "Wisdom in Uniform," a production of the Front Range Theatre Company presented by the Douglas County High School International Baccalaureate Parents' Organization. This enriching and historical production will be performed at the Douglas County High School Auditorium, 2842 Front Street in Castle Rock the evening of Friday, November 16 at 7 p.m. Tickets are $10/ $8 for veterans, seniors, and students and are available through https://tix6.seatyourself.biz/webstore/webstore.html?
domain=huskieibpo&event=. Tickets can also be purchased at the Castle Rock Senior Center, 2323 Woodland Boulevard.
Wisdom in Uniform is the second in a series of "The Wisdom within These Walls" productions from Anne McGhee-Stinson and Sandy Haworth-South of the Front Range Theatre Company. To create this production, McGhee-Stinson interviewed military veterans whose experience spanned over sixty years, from Iwo Jima in World War II to the present day. Front Range Theatre actors who are themselves veterans perform the brief monologues on stage while photos from the period are projected on a screen overhead.
The veterans' stories are sometimes funny, often shocking, and always, always moving. Your life will be enriched with the wisdom these veterans share with us. Some of the veterans will be in attendance that evening, available for questions after the performance.
Front Range Theatre Company generously shares this production as a fundraising event for the DCHS International Baccalaureate Diploma Program and the Douglas County Veterans Memorial Foundation.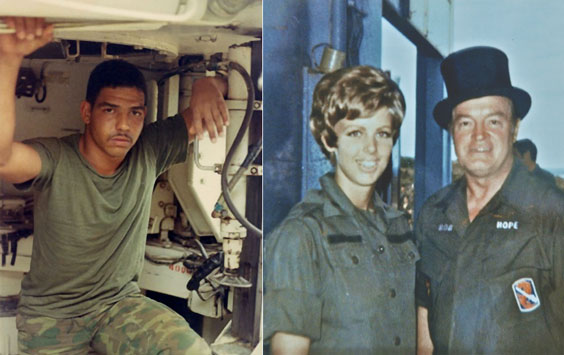 Left: Walt Booth a Vietnam-era veteran featured in The Wisdom Within These Walls – Wisdom in Uniform. Right: Patti Ehline – a Vietnam nurse pictured here with Bob Hope.