Work underway on gateway monuments, car wash
July 27, 2023
/
/
Comments Off

on Work underway on gateway monuments, car wash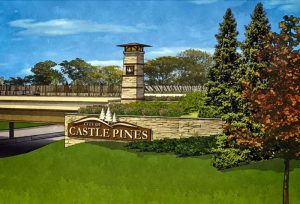 Any resident or visitor to the City of Castle Pines has surely noticed construction activity on the north side of Castle Pines Parkway, just west of I-25.
Castle Pines is in the process of installing gateway signage at the city's main entrances "to improve both navigation and a sense of place throughout the community," according to planning documents.  The $3-million project includes monument construction, landscaping, and roadway improvements near the southbound off-ramp at I-25 and Castle Pines Parkway.
The City of Castle Pines monuments will "greet visitors with an attractive signage design that makes an excellent first impression and reinforces the community's identity," the documents said.  Final designs for a smaller gateway sign on Monarch Boulevard near the northern city limits are currently under review, with construction planned for later this year, said city manager Michael Penny.  Monuments will be constructed in the coming years at the I-25/Happy Canyon Road interchange once funding is allocated.  The branding and wayfinding effort has been discussed for several years and was part of the city council's 2022 priorities.
On the northwest corner of Castle Pines Parkway and Beverly Boulevard, one block west of the work that is underway adjacent to the southbound I-25 off-ramp, construction crews are grading land on a 1.1-acre lot to make way for Cobblestone Car Wash.
The 3,750 square-foot building will have three drive-in lanes and 12 outdoor vacuum stalls.  It will contain an office/customer waiting area and a car wash tunnel that can fit up to five vehicles at a time.  Attempts to reach the owner, Cobblestone Denver PropCo, LLC, were unsuccessful and the timeline for completion is unknown.
---
By Chris Michlewicz; photo by Terri Wiebold and graphic courtesy of the City of Castle Pines