September 1, 2011
/
/
Comments Off

on Las Brisas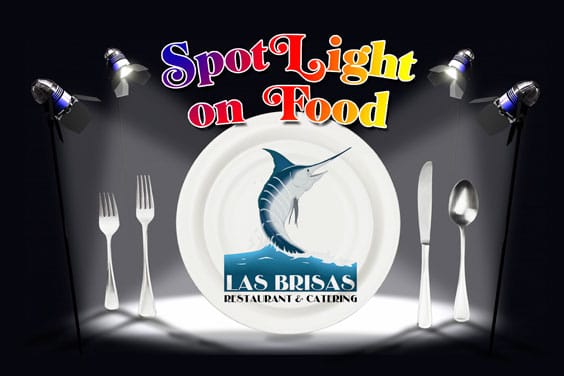 A taste of… Las Brisas
By Liane Marette Davis with photos provided by Las Brisas
Special thanks to Castle Pines area resident Rosie Michaels for e-mailing our editor requesting we feature Las Brisas: "We'd love to see a feature on Las Brisas restaurant. It's one of our favorite local places where it's like 'Cheers' and everybody knows your name when you come through the door. It's not a chain which is why we love it and hands down the best margaritas in town."
Established in 1987, Las Brisas (translated to The Breezes) is still going strong. Take a look at the menu and you will see that it is an amazing fusion of Mexican, Spanish and Caribbean cuisines. You will be greeted with a big smile by co-owner and General Manager Matteo Mazzulo-Revel, who makes you feel instantly right at home. Las Brisas is often packed with loyal customers sipping on the famous LB margarita or enjoying the fresh chips and salsa.
Begin your meal with a tasty appetizer. A favorite among guests, the Flameado is a baked blend of zesty cheese, tomatoes, scallions and chili — and don't forget to add the spicy chorizo sausage. You can't go wrong with the Carnitas, deep fried marinated pork tenderloins served with flour tortillas, sour cream, and guacamole.
Las Brisas also has great specials for lunch. Try the "Seven for $7" lunch special, which is a choice of soup or salad — such as the Posole Rojo, a red chile pork and hominy stew. Combine that with a lunch-sized entrée like Enchilada Mariscos (scallops, shrimp and crabmeat wrapped in flour tortillas and topped with their decedent chipotle cream sauce) for $7. Craving something else not on the specials list? Try the homemade Chorizo Con Huevos.
Want a dish that will have you coming back for more? The Filet Jalapeno, which is char-boiled beef tenderloin medallions topped with red and green peppers and jalapeno cream sauce, is the answer.
There are many other items on the menu to choose from, such as the Paella, Spanish Prime Rib, Camarones Con Pasta, or the Chipotle Baby Back Ribs to name a few. Or try one of their fresh salads, like the Las Brisas Salad, their signature taco salad or Salmon Salad with blackened salmon.
Join Las Brisas for happy hour Monday through Saturday from 3 p.m. to 7 p.m. with half-priced tapas, $2.50 well drinks, house wine, domestic beer and $5.00 margaritas. Ladies can enjoy $3 margaritas Wednesday nights. Thursday evenings, sit back and relax with live music entertainment with Tony David and Pamela Hughes.
Kids are welcome and can choose from traditional kiddo fare such as hamburgers, chicken fingers, quesadilla, taco or burrito served with rice or fries. Save room for dessert. The melt-in-your-mouth Chocolate Cheesecake Chimichanga (flour tortilla filled with homemade chocolate cheesecake, deep fried and served with caramel sauce, chocolate syrup and whipped cream) completes any meal.
Las Brisas is located at 6787 South Clinton Street in Greenwood Village. Hours of operation are Monday thru Thursday, 11 a.m. to 10 p.m.; Friday and Saturday, 11 a.m. to 10 p.m.; and Sunday from 3 p.m. to 9 p.m.
For information, call 303-792-3212 or visit www.lasbrisascolorado.com.