BRE Fall Book Fair is back; better than ever
October 1, 2011
/
/
Comments Off

on BRE Fall Book Fair is back; better than ever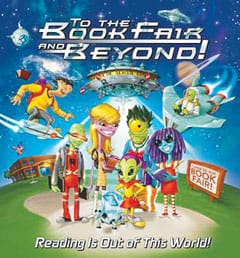 by Alonso D., BRE Ridgeline Staff Reporter
September 30 through October 6 the BRE Fall book fair will be held and everyone is exited!
With the new theme, To The Book Fair And Beyond, this might just be the best book fair yet. This year, the book fair will be held in the gym. Come on in and we will hook you up with a book! Some of the featured books will be Girl Detective by Judy Moody, Red Pyramid by Rick Riordan, Everyday on Earth; Fun Facts that Happen Every 24 Hours by Steve and Matthew Murrie and Magic Treehouse Fact Checker: Dog Heroes by Mary Pope Osborne and Natalie Pope Boyce.
BRE Book Fair Dates and Hours:
Friday, September 30: 8:00 to 4:30 p.m. (Teacher/Student Preview)
Saturday, October 1: 8:00 a.m. to 12 noon (Rock Slide and Waffle Breakfast)
Monday, October 3: 8:00 a.m. to 4:30 p.m.
Tuesday, October 4: 8:00 a.m. to 8:00 p.m. (Author night)
Wednesday, October 5: 8:00 a.m. to 4:30 p.m.
Thursday, October 6: 8:00 a.m. to 4:30 p.m.
Everyone is exited and everyone is coming! "I really like book fairs. It`s a good way for kids to find new books that interest them," says library teacher Mrs. Major. "I feel pretty exited. I usually like to get the Ripley`s Believe it Or Not, Guiness Book of World Records, and Guiness Book of World Records: Gamers Edition" says Josh H., a Ridgeline staff member.
"Having a book fair has many benefits. The book fair introduces fun themes that take reading out of just a library setting to a new and interesting place filled with catchy phrases and colorful decorations around favorite books. Students get to feel a sense of self worth and responsibility as they scrape together nickels, quarters, and dollars to purchase their favorite books. But in the end… the book fair is just FUN," said Linda Day, BRE Fall Book Fair Chairperson.
You can buy books, book marks, and much, much more. The book fair is perfect for young and old ages and all are welcome. Just come to 7075 North Shoreham Drive. We`ll be there, ready to sell books!