August 1, 2011
/
/
Comments Off

on And the winner is …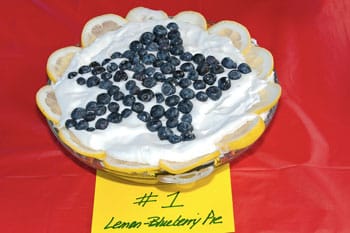 by Patte Smith
Congratulations to Jill Noyes, the Independence Day 2011 pie contest winner! An avid baker, Noyes decided at the last minute to enter the pie contest which was held at Coyote Ridge Park on July 1. "I have never entered a pie baking contest before and I wanted to get more involved in the local community activities, so I decided to give it a try!"
Born and raised in Oklahoma, Noyes admits that pie baking runs in the family. Both her grandmother and aunt are also pie bakers and have won contests. "I had no idea I would win," smiles Noyes. "I made the pie on Friday morning and decorated it about an hour before we left for the park. My three-year old daughter Emma 'helped' me put the blueberries on the top."
Noyes notes that she is flattered about winning and feels more confident about her baking skills. "When my husband and I went back to pick up my pie plate he was really excited to try the pie. He ended up getting the very last bite of it so I made him one the next day – he gave me his very own 'stamp of approval!'"
Jill's prize winning recipe:
Lemon – Blueberry Cream Pie

Ingredients
1 2/3 cups graham cracker crumbs
1/4 cup sugar
1/3 cup butter or margarine, melted
1 (8-ounce) package cream cheese, softened
1 (14-ounce) can sweetened condensed milk
1/4 cup powdered sugar
1 (3.4-ounce) package lemon instant pudding mix
2 teaspoons grated lemon rind
1/2 cup fresh lemon juice
1 pint fresh blueberries
2 tablespoons blueberry preserves
1 cup whipping cream
Garnishes: lemon slices, fresh blueberries
Preparation
Stir together first 3 ingredients; press evenly in bottom and up sides of a 9-inch pie plate.
Bake pie crust at 350° for 8 minutes; remove pie crust to a wire rack, and cool completely.
Beat cheese, milk, and powdered sugar at medium speed with an electric mixer until creamy. Add pudding mix, rind, and juice; beat until blended. Spread half of lemon mixture evenly into prepared crust.
Stir together blueberries and preserves; spread evenly over lemon mixture. Spread remaining lemon mixture over blueberry mixture; cover and chill 2 hours or until set.
Beat whipping cream with an electric mixer until soft peaks form, and spread around outer edge of pie, forming a 3-inch border.
Garnish, if desired.