Artisans "jam" for a good cause
August 1, 2011
/
/
Comments Off

on Artisans "jam" for a good cause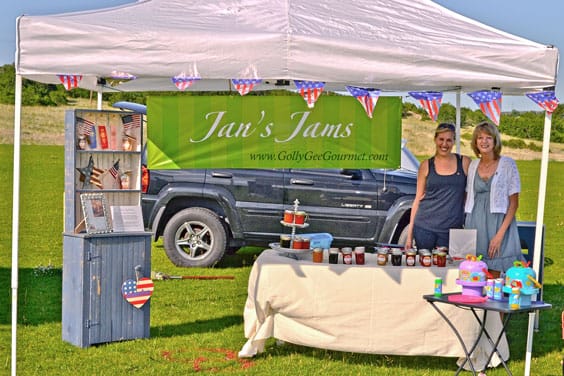 Pictured above: Jan Teague (right) and Kristin Mitchel (left) of Golly Gee Gourmet sell Jan's Jams at the Castle PInes Independence Day celebration and other area events. The mother-daughter team donates a portion of their profits to amyloidosis research and patient support.
by Lisa Crockett
Nothing says summer like a beautiful jar of homemade jam. Last year, Happy Canyon resident Jan Teague and her daughter Kristin Mitchell decided to bottle a few jars of their favorites and try their hand at selling them to friends and neighbors. They called their product "Jan's Jams" and made it in small batches with fresh, wholesome ingredients – including several locally-grown items. Some of the ingredients (chokecherries and plums) come right from their own neighborhood.
"We set up a table at the entrance of Happy Canyon," said Jan. "We had a great response."
Riding the wave of last year's success — which included a blue ribbon at the Douglas County Fair — mother and daughter established a business called "Golly Gee Gourmet" to provide a platform for their wares. They now host a booth at the Plum Creek Valley Farmers Market in Castle Rock each Saturday. They have also participated in local events, such as the Castle Pines July Fourth Celebration, and host a website, which allows customers to order jam at any time and have it shipped across the country.
This is more than a story of a growing business, however. Jan and Kristin are making jam for a good cause, one that they have very close, personal ties with. Nine years ago, Jan was diagnosed with a rare blood disorder called Amyloidosis, a dangerous condition that causes protein deposits to build up in the body, eventually causing organ failure.
"I was fortunate to be diagnosed early in my disease and have a bone marrow transplant," said Jan. "I'm grateful to be here eight years later, in a form of remission."
A portion of the profits from jam sales are donated to benefit research and support for patients with Amyloidosis. Recently, Golly Gee Gourmet was able to donate more than $1000 to Who is Amy?, a nonprofit charity which supports the research of Amyloidosis and the Patient's Assistance Fund at the Colorado Blood Cancer Institute.
In keeping with their healthy outlook, Jan and Kristin look for ways to make their jams out of pure, natural ingredients. "We shop a lot at Sprouts and Sunflower Market early in the season, starting in May," said Kristin. "In August, we can start to use more things that are grown here in Colorado, like chokecherries, wild plums, Concord grapes and Colorado peaches."
But even creations that use fruit from more exotic locales, like the popular Mango Banana, have an emphasis on simple, old-fashioned techniques and quality.
"We don't use anything we don't need in the jam," said Kristin. "We use fresh fruit, pure cane sugar and fruit pectin."
Business is good, and the jam-making team is working hard to keep enough jam in the inventory to meet demand. Their labor-intensive process produces just seven or eight jars of jam at a time, but according to Kristin, it's that approach that makes the business the success that it is.
"We've been so pleased with our interactions with our customers and with our sales," said Kristin. "Using our small-batch method is what makes our jam so special."
The Plum Creek Valley Farmers Market is held each Saturday morning from 8 a.m. until noon on Second Street between Wilcox and Perry Streets in Castle Rock. For more information on Golly Gee Gourmet, visit them at www.gollygeegourmet.com.