Glenwood Caverns Adventure Park
June 1, 2018
/
/
Comments Off

on Glenwood Caverns Adventure Park
Adventure high on the mountain
By Michelle Post; courtesy photos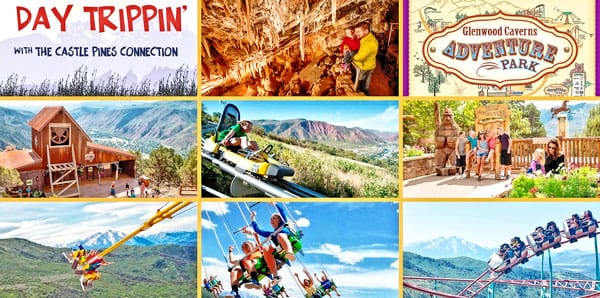 Glenwood Caverns Adventure Park offers thrills, chills, oohs, ahhs and fun for all.
Colorado has so much to offer, I never get bored living here. An excellent adventure for the whole family is the Glenwood Caverns Adventure Park in Glenwood Springs. It is 157.4 miles due west along I-70 from Denver. It is roughly a three-hour drive from Castle Pines, if you do not stop along the way or run into traffic. The trip is lovely and meanders through the mountains and along the Colorado River.
But enough about the drive. Let's talk about the Glenwood Caverns Adventure Park. The adventure begins with a ride on the Iron Mountain Tramway that takes you up to top of the mountain. Once you exit the tramway, you will be stepping back into history as you walk through an 1800s town. The town is filled with food and fun for all.
If it is a high adventure you are seeking, then be sure to try the thrill rides in the Park (Alpine Coaster, Cliffhanger Roller Coaster, Giant Canyon Swing, Glenwood Canyon Flyer, the Soaring Eagle Zip Ride and Glenwood's newest attraction – the Haunted Mine Drop.) The ride is the first drop ride in the world to go underground, dropping riders 110 feet down inside Iron Mountain. If you are not into the thrills, fear not, as the cave tours are breathtaking. Descend down 150 feet inside the mountain and view flowstones, cave bacon, soda straws, stalagmites, stalactites and many amazing cave formations.
A variety of guided cave tours are available and last about 40 minutes and are appropriate for most ages and fitness levels. Don't like spelunking? No worries, there is plenty more to do on the surface. Enjoy a 4-D movie, wall climbing, laser tag, and the list goes on.
Glenwood Caverns offers two dining options at the park: The Lookout Grille offers hamburgers, vegetarian options, sandwiches, tortilla wraps, a great kids' menu and more – including breathtaking views. The Snack Shack is perfect for dining on-the-go and features snacks including sno-cones, ice cream, bratwursts, pizza, hot dogs and cold beer. Or, you can always plan ahead and bring in your own picnic basket.
The Glenwood Caverns Adventure Park is a must-do on your Colorado bucket list. To plan your adventure, visit www.glenwoodcaverns.com/.