Unearthing a lost Lord Keeper
July 1, 2018
/
/
Comments Off

on Unearthing a lost Lord Keeper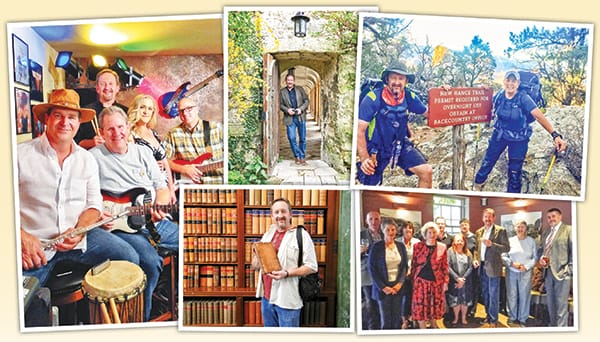 For three years, Greg Sherwood has been on a quest to unearth the author of a book from 1657, an English lord and an extraordinary man who had been lost to history. Sherwood's quest has taken him to the island of Jersey near France to meet with colleagues at the Société Jersiaise (bottom, right), as well as to Oxford, England (top, center) and the Middle Temple Library in London (bottom, center) among other locales. As much as his quest has captivated him, Sherwood has still taken time for his other pursuits: his weekly "Band Nite" (top, left) with friends and a backpacking trip (top, right) into a remote part of the Grand Canyon with a friend as part of a larger group.
By Susan Helton; photos courtesy of Greg Sherwood
Resident Greg Sherwood never expected to become a history sleuth when, in 2015 at Denver antiquarian bookseller Gallagher Books, he inquired about the oldest book they carried. Curiously titled "Reports in the Court of Exchequer, Beginning in the third, and ending in the ninth year of the Raign of the late King James," the oldest book's publication date was 1657.
"I didn't realize its significance," stated Sherwood. "I was fascinated to hold something so old, so I bought it!"
Researching his new acquisition, Sherwood learned that the author, Lord Keeper Sir Richard Lane was historically notable. The worn volume, known as Lane's Reports, turned out to be a copy of the first published court cases in the English Exchequer Court, making it a root precedent document of English Common Law, and by extension, of American laws. Sherwood's satisfaction changed to frustration as he tried to learn more about Lane: his fate – he died in exile, with conflicting claims about where; his gravesite – unknown; his only known portrait – apparently vanished. A man seemingly lost to history.
That changed when Sherwood stumbled onto a genuine clue that Lane was buried under a 1,000-year-old church on Jersey, an island near France. "My inquiry had just become a quest…to solve the mysteries of an obscure central figure in the dramatic English Civil War of the 1600s," stated Sherwood in his quest's online journal.
Uncovering scattered bits of information, Sherwood discovered that, on his own merits, Lane rose to knighthood and to the position of Lord Keeper of the Great Seal of England, the highest role in the monarchy for a non-royal.
"The best surprise was to find out just how noble the guy was. I've found good evidence that he was admired and respected, an honorable husband and father…a man worth knowing, worth history remembering," said Sherwood. "I wasn't looking for this. But to actually unravel the story and rescue somebody from obscurity who was worth rescuing…that feels like a real contribution."
Serendipity, surprises and thrills characterize Sherwood's quest. An obscure diary from Jersey hid a clue to Lane's unmarked gravesite. A randomly-chosen audio book led to Lane's familial connection to Thomas Jefferson. And recently, Sherwood was thrilled to find himself at Westminster, London presenting an analysis of "The Trial of Strafford," a 9-foot wide painting in the House of Lords.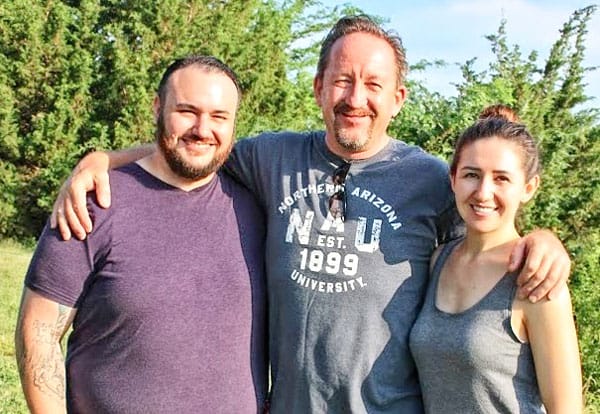 Greg Sherwood (center) and his son, Casey, and daughter, Alyssa, at a recent family reunion in Kansas.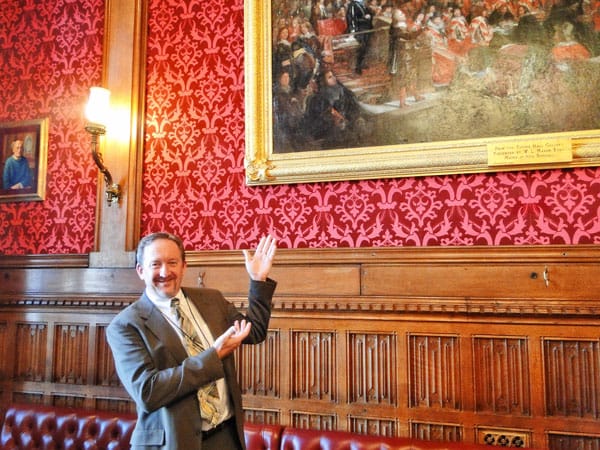 In this 1844 painting of a pivotal event in which Lane played a key role, Sherwood identified a previously unrecognized image of Sir Richard Lane himself. "To be able to share that work with the staff of the Curator's Office was an honor. It's a remarkable and ironic outcome that I have found my Lost Lord Keeper in a dramatic depiction of the most important event of his life," stated Sherwood.
A Renaissance man himself, Sherwood holds five patents, and degrees in electrical and computer engineering and computer science. He has worked in oil-field instrumentation, as a ground system architect for a major satellite system, and has helped build a gravity measuring instrument, satellite systems, marine navigation and now aviation navigation systems. For fun, Sherwood plays drums with his weekly studio band, a 15-year passion still going strong, and enjoys hiking, backpacking and mountain biking. Sherwood also volunteers at the Denver Museum of Nature and Science, where he loves explaining aspects of the temporary exhibits to help people grasp them meaningfully. Originally from Wyoming, Sherwood has a son in North Carolina, with his first grandchild arriving soon, and a daughter in the Denver area.
Sherwood's quest is far from complete. Each discovery and revelation about Lane opened new avenues to explore and produced further questions for Sherwood to investigate. Ultimately, Sherwood plans to write a few books. "I can see three different books as a result of the quest: a historical reference, my story of how I found him, and one really good historical drama!" said Sherwood.
To follow Sherwood's ongoing quest and new discoveries in his online journal, visit 5280explorer.blog.