Alberto Granados, doing something good
April 1, 2019
/
/
Comments Off

on Alberto Granados, doing something good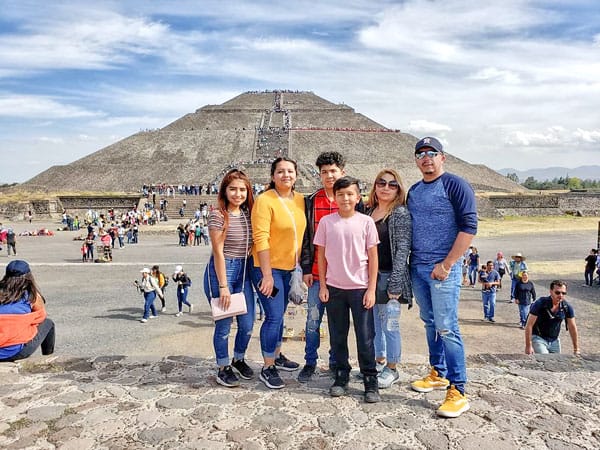 In January, the Granados family visited Teotihuacán near Mexico City, including the Pirámide del Sol pictured here. "Having the kids know more about our culture and ancestors, it was so much fun," Alberto stated. Left to right: Sarahi, Samantha, Alberto Jr., Allan, Lucia and Alberto.
By Susan Helton; photos courtesy of the Granados family
Alberto Granados, owner of Las Fajitas Mexican Restaurant in Castle Pines, has worked in the restaurant business since he was a teen. After learning everything from dishwashing to managing, Alberto decided – along with his brother – it would be best to be his own boss. And so Las Fajitas came to be in Colorado in 2004, bringing the distinctive flavor mix from Alberto's hometown in Mexico. The Castle Pines restaurant opened in 2011.
Originally from Jerécuaro, in the state of Guanajuato, Mexico, Alberto became a U.S. citizen in 2016. "This country has given me the opportunity of my life. I'm so grateful," said Alberto. "It's where I've achieved my dreams and my family's dreams. I'm proud to do everything I can to help make this country even better every day."
Alberto's parents inspired him to work hard. "I come from a big family. Eight boys and three girls. You can imagine how hard it was for them to raise all of us," Alberto stated. His children also inspire him. "We're a family of six. I want a better life for all of them so they can achieve dreams that I wasn't able to finish," stated Alberto. "Because my parents, they didn't have enough money to give me the opportunity to finish my career." Before starting the restaurant business, Alberto had originally hoped to be a doctor.
Alberto and his wife, Lucia, have four children: Samantha (19), Sarahi (18), Alberto Jr. (15) and Allan (11). Samantha is currently studying to become a dental hygienist. Sarahi, a high-school senior, dreams of becoming a doctor. "She said my dream now becomes her dream," stated Alberto. Alberto Jr., a high school freshman, enjoys playing soccer with friends and wants to play for the school. Allan, a middle schooler, plays soccer in a club. Alberto stated, "Midfielder is his position. He's a really good player!"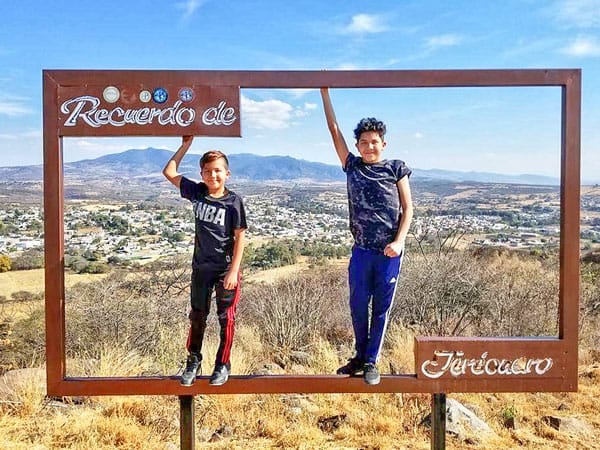 Sons Allan (left) and Alberto Jr. at Alberto's hometown in Mexico. "This town is where all the great flavors come from. We brought them to Colorado in our restaurants," stated Alberto.
Soccer is one of Alberto's favorite hobbies. When he was younger, he played for a team, and now he enjoys taking his sons to their games. Alberto also enjoys spending time with his family and going out together. They travel when they can – frequently visiting Lucia's family in Florida – and visit the mountains, especially near Eldorado Springs, a favorite spot. "My biggest passion at the moment is to get my own ranch, where we can spend time away from the city, get a few horses and cows to show my kids my original roots," stated Alberto. "I was raised in a small town surrounded by all types of animals."
"The kids love to help in the restaurants," Alberto stated. Lucia also joins Alberto at work. "I can't be what I am today without them, and of course our loyal customers and employees," stated Alberto. "We're doing something good. I want to show everyone that when you really want something in life, you're capable of achieving anything you want. Hard work pays off!"