Breakfast Club provides inclusive community for 50+ singles
January 1, 2018
/
/
Comments Off

on Breakfast Club provides inclusive community for 50+ singles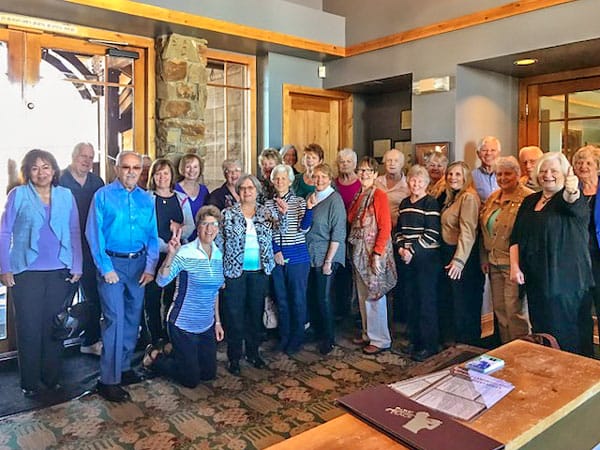 The Breakfast Club, which is for single men and woman who are 50 and older, meets monthly at The Ridge at Castle Pines.
By John Basche; photo courtesy of Barbara Auty
For those of us who grew up in a certain era, "The Breakfast Club" conjures up a cinematic coming-of-age story where seemingly unconnected characters from diverse backgrounds are able to pull back their defenses to find common ground and companionship through life's challenges. It is in that similar vein that another "Breakfast Club" gathers monthly at The Ridge at Castle Pines North (The Ridge) to bring like-minded local 50 plus singles together for the unifying pursuit of fun, friendship and adventure.
"Our mission is to provide a safe, comfortable and friendly social setting for active single men and women 50 years or older," said Breakfast Club Front Range Chapter President Barbara Auty. "While we meet monthly for breakfast at The Ridge in Castle Pines, most of our activities are in Castle Rock, Monument, Lone Tree, Highlands Ranch, Parker and even northern Colorado Springs."
If you believe the cliché that 50 is the new 30, then this group is counting backwards as they keep their pedals to the floor on a whirlwind of adventures that can only be described as a rich reflection of the vibrancy of its members. While the group regularly convenes on the third Saturday of every month at The Ridge, the available activities that the group supports reads like a Condé Nast adventure club.

The group brings like-minded singles together for the pursuit of fun, friendship and adventures.
Whether it is Front Range outings to enjoy the local arts and music scene like taking in theater or concert performance at the Denver Center for the Performing Arts or Lone Tree Arts Center, or more cerebral competitions like regular Canasta or Mahjong get-togethers, the Breakfast Club maintains an active agenda throughout the year for almost any interest. Even those looking to add a new stamp or two to their passport can fulfill their wanderlust with the club, as their globetrotting past has left indelible tracks and memories in countries like Italy, Greece, Germany and France just to name a few.
Outdoor, indoor, active or artistic, the Breakfast Club provides a friendly catalyst for those looking to make new social connections. New members are welcomed with open arms and an open-minded approach to new ideas for shared activities and adventure. As the front range chapter founder, Judy Kautz said, "I started the Front Range Chapter three years after joining the Breakfast Club, the original Chapter. It was important to me to offer the opportunity to all single men and women to have fun in a safe environment. After 48 years of marriage I suddenly found myself a widow. That is a rude awakening, because suddenly you no longer have a spouse to do things with. I still wanted to go out and have fun and finding The Breakfast Club gave me that opportunity. I am blessed to have found so many friends."
For family members, Breakfast Club activities can provide an added peace of mind for loved ones. Castle Pines resident Gina Mead had this to say about her mom's discovery of the organization: "The Breakfast Club has been absolutely wonderful for my mom. My father died a number of years ago, and thanks to The Breakfast Club, she has an amazing group of friends and stays very active. Every week, there is something for her to do – happy hour, bowling, parties and trips to Denver. Mom has even taken many international trips with friends from the club! It's so nice to see my mom happy and active and to know that she has such a close-knit group of friends who look after one another."
If you are a 50 plus single or know of one that might be interested, call the Breakfast Club's Front Range chapter hot line at 303-814-8428 or visit www.tbc50plus.org/.