Cut your time, and increase your opportunities with this scholarship application checklist (Part three of a three-part series)
April 1, 2017
/
/
Comments Off

on Cut your time, and increase your opportunities with this scholarship application checklist (Part three of a three-part series)


By Michelle Post
"Give me six hours to chop down a tree and I will spend the first four sharpening the axe."
~ Abraham Lincoln
I love the above quote, for it reminds me that preparing to complete a task is more important than doing the job itself. In part one of this series we looked at how to find scholarships for college using the internet, and part two discussed the process for researching, finding and applying for scholarships. In the final entry in the å, we look at the preparation needed to create a repeatable checklist for the application submission success.
Before reviewing the checklist, it is important to remember one truth; it is never too soon to prepare for college. Nelson Mandela said, "Education is the most powerful weapon which you can use to change the world." While education may be the most powerful weapon to change the world, to educate a mind it takes a heart willing to learn and the self-discipline to do the work.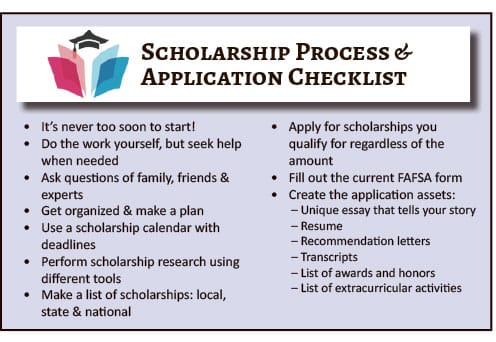 Preparing for college is not an easy task; however, the checklist included above can provide a starting point, and the internet is a toolbox full of helpful websites, checklists and resources to ensure your success of a college education.
For additional resources, visit bit.ly/CPC_CollegeChecklist for the Federal Student Aid College Preparation Checklist.