DCSD unveils new Douglas County Opportunities Center
December 1, 2017
/
/
Comments Off

on DCSD unveils new Douglas County Opportunities Center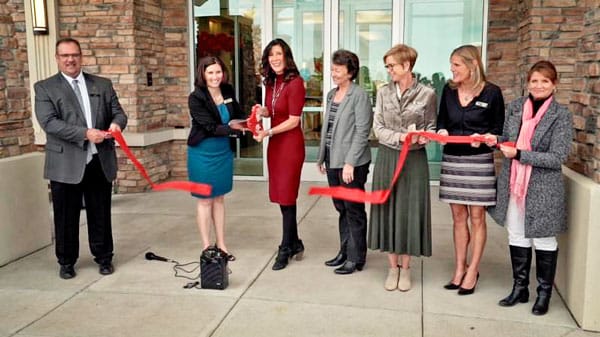 Information provided by the Douglas County School District
Leaders from the Douglas County School District (DCSD) and the City of Lone Tree unveiled the newly purchased Douglas County Opportunities Center in November. The renovated building will now be home to DCSD's evening high school, Eagle Academy, as well as DCSD's Child Find and Bridge programs.
"It brings tears to my eyes to think about the facility that our Eagle Academy and Bridge Program students have had for way too long," said DCSD Interim Superintendent Erin Kane. "I imagine them finally having real classroom space – dedicated space that is their own. Today is truly about doing the right thing for kids. And I'm proud to be part of it."
The Opportunities Center is located at 9350 Teddy Lane, just across the street from Lone Tree city offices. The property was built in 2008 but has remained vacant since then. The DCSD Board of Education approved the purchase and renovation of the property in January 2017.
"You might remember we used to have cows and antelope right here," joked Kim Ransom, who represents Colorado House District 44 and has lived within a mile of the Opportunities Center site for nearly 30 years.
"I think the name is very fitting for the City of Lone Tree because we are a city of opportunity," said Lone Tree's Mayor, Jackie Millet. "We are a city of partnerships and we've always had a strong partnership with the Douglas County School District. Eagle is the first high school we have here in the City of Lone Tree."
"The extra effort DCSD put into this building means a lot to the citizens here. It means that you care about being good neighbors," Millet added.
Representatives from the architecture firm that lead the project, the Cunningham Group, joined DCSD and City officials for the ceremony.
"When you are combining three different programs with three different sets of needs and requirements it could be quite a challenge, but this went really smoothly," commented Architect Jackie Squires.
One of the new property's inhabitants, DCSD's Child Find program, administers developmental screenings and/or comprehensive evaluations for young children, who reside in Douglas County, from birth through age five.
"We are obligated to actively look and find children that might need support, and with that support they will be able to achieve at their highest potential," said Nancy Burdic, DCSD director of early childhood education. Any parent that would like their child screened can call us or go online and request an appointment, and we will do that for them. If we find a child does require our services, we arrange for that in their preschools or in their homes if they are younger."
The day was particularly emotional for Bridge student Baylee Ginther. The Bridge program provides vocational classes and life skills for individuals with cognitive disabilities aged 18-21.
"I'm most excited for our new kitchen because I love to cook," said Ginther, who is spending her second year in the Bridge program.
"Any program like this starts at the top, and the programs are as good as the people running them," said Baylee's mother, Julie Ginther. "This building is amazing, and it really does my heart good to see that the district values our students and the program."
DCSD's evening high school, Eagle Academy, has resided at Highlands Ranch High School since its inception 22 years ago. The school provides an alternate avenue for students seeking a high school diploma and is committed to providing students with a multi-faceted learning experience that nurtures confidence and facilitates exploration and self-discovery.
"Sometimes kids just can't find their place and they come to Eagle to find something different. I push our teachers to constantly think outside of the box and to take risks and to give kids something unique, that they can call home. This new building is that; these teachers will be able to take it to another level," said Eagle Academy Principal, Jeff Broeker.
"[Eagle Academy] is full of some of the most amazing human beings I've come across in my life," said student Quinn Hunchar. "The students are going to love this; it is incredible. The sky's the limit now."