Dignified honors motorcades escort fallen first responders and military personnel
April 1, 2017
/
/
Comments Off

on Dignified honors motorcades escort fallen first responders and military personnel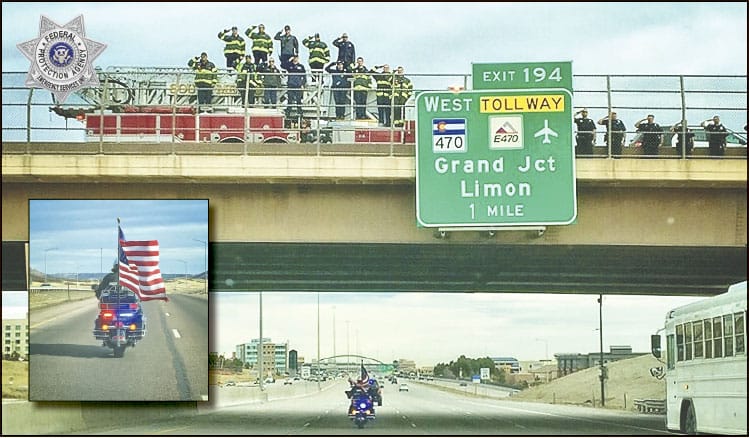 The loss of life while serving one's country, either in a military capacity or as a first responder, is something worthy of paying tribute. Throughout Douglas County, uniformed personnel are proud to participate in rendering honors at various locations as dignified honors motorcades pass through, taking these heroes to their final resting place.


Article and photo by Terri Wiebold; courtesy photos
Periodically, first responders and law enforcement personnel can be seen at attention with lights flashing on the freeway overpasses throughout the state. This is a gesture of gratitude and respect for fallen comrades or military personnel as their motorcade procession carries them to their final resting place.
The agency providing the transport is the Federal Protection Agency, a private non-governmental company that offers funeral escorts. According to former police officer and director Leah Mondy, when military personnel are honored, there is always an escort person that travels with the fallen soldier. This is a military person of equal or greater rank than the fallen soldier. The escort travels on the plane and stays with the fallen soldier until he/she is laid to rest.
There is also an honor guard that is in the procession. They have the privilege of carrying the fallen soldier to and from the plane for the soldier's final journey home.
"When the young men and women in the honor guard who accompany the motorcade see police, fire, EMS or military personnel – and especially the general public – on the overpasses honoring the motorcade, it brings them … all of us actually, to tears," said Mondy. "It makes me so proud of our communities!" Mondy said the general public is always welcome to render honors as well, provided they do so in a safe manner that does not impede traffic or cause safety concerns.
The men and women from the Federal Protection Agency who participate in the motorcade are all off-duty personnel who give of their time and services; they are not financially compensated in any way, according to Mondy. The motorcades are done free of charge anywhere in the state of Colorado.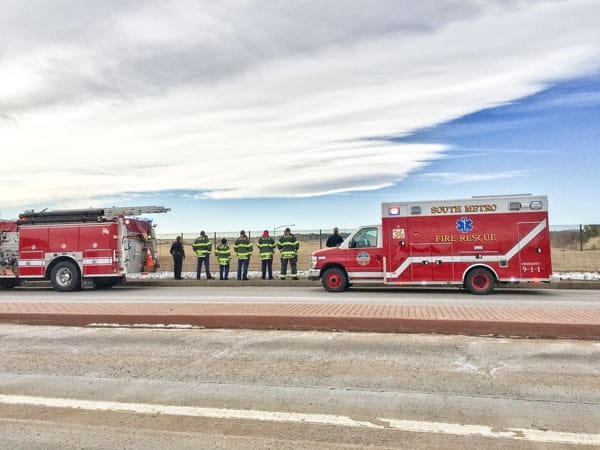 Firefighters and EMS personnel from Castle Pines Station 36 paid tribute to a dignified honors motorcade transport to Denver International Airport last month. They are pictured here on Castle Pines Parkway overlooking northbound I-25 awaiting the motorcade.
On Friday, March 3, our neighborhood firefighters from Station 36 (Castle Pines Parkway) and Station 39 (Happy Canyon Road) in Castle Pines honored Specialist First Class Andrew Garcia's transport from Grand Junction through Colorado Springs and on to Denver International Airport.
Garcia was 20 years old and was actively serving with the U.S. Army with the 31st Air Defense Artillery Brigade. He had served for one year and four months before making his journey home to his final resting place in California. Special thanks to South Metro Fire Rescue and Stations 36 and 39 for participating!
The Federal Protection Agency has a Facebook page (www.facebook.com/Federal-Protection-Agency-134078223444396/) where upcoming transports are announced, as well as videos from previous motorcades.