French students experience Moroccan culture
May 1, 2017
/
/
Comments Off

on French students experience Moroccan culture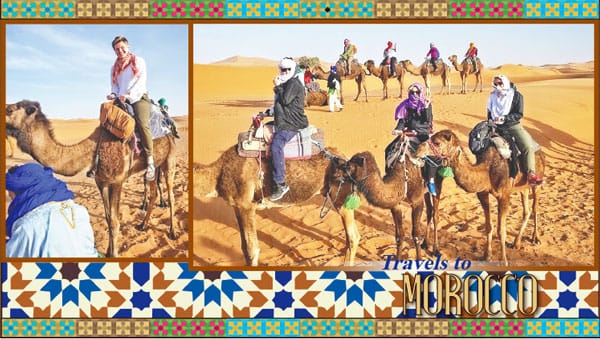 French language students at Rock Canyon High School, along with teachers Alexis Savas and David Sapienza, traveled to Morocco where they rode camels in the Erg Chebbi Dunes of Merzouga in the Sahara Desert. The group also visited the Medersa Ben Youssef, an Islamic school in Marrakech before traveling to the High Atlas Mountains where they completed a community service project in a Berber village school.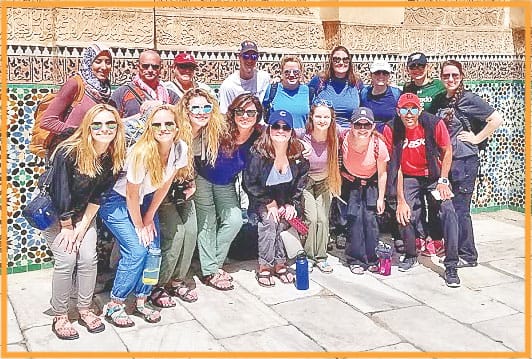 By Lisa Nicklanovich; photos courtesy of Alexis Savas
Students at Rock Canyon High School (RCHS), mostly French National Honor Society (FNHS) students, were watching a slideshow about tea ceremonies in north Africa when the idea was hatched to organize a trip to Morocco. "Ever since I saw the movie 'The Prince of Persia,' I had wanted to go to Morocco and use my French there," said Cayden Bro, a Castle Pines resident and a senior at RCHS.
The trip took more than a year to plan, and a few students took the initiative, working with FNHS advisor Alexis Savas and tour company Rustic Pathways. Preparation included getting approval from the school district and attending monthly meetings, which ranged from health and safety topics with a school nurse to packing and photography tips through L.L. Bean's free programs. The group gathered school supplies to bring, and Haley Swamberger, president of FNHS, worked with the soccer program at RCHS to bring cleats, balls and uniforms.
Eleven students, two teachers and two parents, headed out on March 17 to the former French colony and experienced the influences of French culture blended with native Berber, Arab and other European and African cultures. The group stayed in the heart of the old medina in the city of Marrakech, then drove to the Ourika Valley where they stayed in the Berber village of Sbiti in the High Atlas Mountains for a community service project.
Bro said, "We spent three days in Sbiti where we painted a kindergarten classroom. My favorite part of being there though was spending time with the kids. Even though we couldn't speak the same language (they spoke a local dialect of Arabic), as soon as I pulled out the soccer ball, they all gathered around talking and laughing and we started playing. It was amazing!"
Madison Amey, a resident of Knights Bridge and a freshman at RCHS, agreed that the time spent with the children in Sbiti was the most memorable part of the trip. "I saw a little girl by herself just watching. I went over, waved and smiled and held out my hand. She took it and almost instantly started playing patty cake, which was a game we taught them."
For Savas, who has traveled to 43 countries and leads students on trips every year, the highlight was riding a camel into the sunset in the Sahara desert. Savas also loved watching the students navigate the souks, which are the local bazaars in Marrakech. "You feel like you are in a different time. You know you're in a different place, but it's like going back in time, seeing the juxtaposition of an ancient market with handmade goods, spices, snake charmers and goats, but then people have cell phones!"
The students gained an appreciation of another culture, which Savas said is her main objective as a teacher. Bro said, "I made a rule before I went that I wouldn't be a picky eater and try everything offered to me. I found out that I still don't love olives, but I fell in love with foods I couldn't pronounce the names of; foods that I probably wouldn't have been keen to try back here."