Gove Creek happenings: the Dakans and frontier justice
October 29, 2023
/
/
Comments Off

on Gove Creek happenings: the Dakans and frontier justice
Have you ever hiked Sandstone Ranch?  It is a grand, sculpted piece of Douglas County open space inventory bounded by Gove Creek and located south of Highway 105 and the Perry Park Road intersection.
In 1870, 30-year-old Civil War veteran William "Allan" Dakan soloed westward to claim a cabin on lower Gove Creek, near blacksmith brother George, who had arrived three years earlier.  Having called Missouri home after his war service, he was likely dissatisfied with the slim pickings available there and followed his heart to Colorado.  Allan claimed his homestead and began building a log cabin.
Back in Missouri, he had married 16-year-old Elizabeth (Lizzy) Cahill in 1867.  Delivered on a Mississippi River packet boat, Lizzy was mobile at birth. Motion was in her psyche.
Summoned to join her husband on their new homestead, she promptly signed onto a wagon train with their two children, Allan Jr. and Orie.  Though her journey without her husband may be viewed retrospectively as risky, tales of Lizzy and her ilk were the stuff of campfire legends for years to come.  On arrival, the family grew to seven children over time.
The Dakans ranched and farmed.  Barley and oats grew well.  Their cows were contented enough to deliver butter for consumption and trade.  Allan and Lizzy's son Frank seemed to have grown the family "brand."  Early an accomplished horseman and stagecoach whip, Frank eventually grew into a seasoned rancher.
Like Allan, many early area pioneers were Civil War veterans, existentially strong and quite comfortable with weapons.  This did not preclude incidents between them and the still restive Native Americans.  Most encounters were settled amicably, yet the Native's need for food put them at a disadvantage in any "bargain."  Two forts nearby, Lincoln and Washington, were redoubts, safe havens to which the settlers turned when under siege.
In 1895, gold and silver fever swept the area.  Some 300 people, dirty and sweaty with greed, poured in.  William Wanner's supremely optimistic reports did for the area (soon-to-be called Dakan after Allan's 20-acre townsite donation) what D. C. Oakes had done nearly 50 years earlier for Douglas County as a whole.  Unfortunately, the results were similar; claims would be proven virtually worthless.  Dakan's cycle from town to ghost town was less than five years from start to finish!
The people of the "old west" knew their neighbors.  Long before Twitter, when stuff happened and folks got wind of an injustice, tongues wagged, stories spreading rapidly among the ranchers.  As it was when two men passing through Gove Creek murdered a local who had hosted them for an evening in his cabin.  Heading south, they spent another night with rancher Dan Hopkins.  As the news raced up and down East and West Plum Creeks, and Hopkins confirmed their direction, a posse was organized, picking up the trail at Hopkin's place.
In an interview with then retired attorney Albert Dakan (son of Allan) in 1946, he closed out the story of frontier justice.  Apprehended near Palmer Lake, the more foulmouthed of the two scoundrels was quickly strung up in a pine grove, his body left hanging as a message.  The second fellow received the same fate and was buried, only later to have his skeleton wind up useful, an example in a local school study of physiology.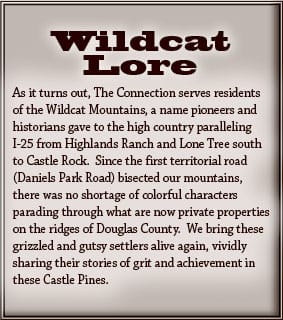 By Joe Gschwendtner; photo courtesy of Douglas County Archives historic collection