October 1, 2017
/
/
Comments Off

on GraceFull Cafe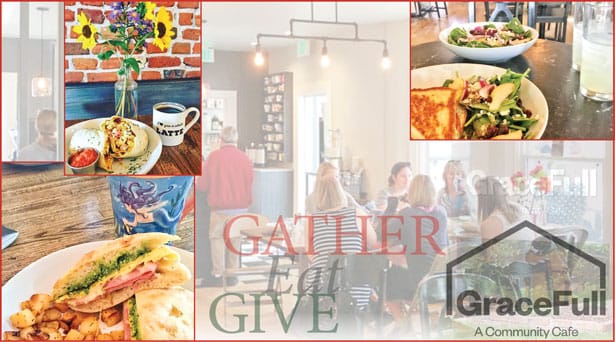 A Community Cafe reaches out to help others
Opened in May 2016, GraceFull Community Cafe is a very unique eatery located in a renovated 1900s house near the corner of South Curtice Street and Main Street in Historic Downtown Littleton. Co-owners Heather Greenwood and her husband Troy Greenwood have a passion to build community through food.
Heather recalled, "I grew up on a farm in southeast Nebraska and have fond memories of gathering with family and friends around food. When I left home for college, I earned a business degree at Washington University in St. Louis and worked as a CPA as my first career. After four years that I really enjoyed in the field, I decided to go back to school and pursue my master's degree in education for an opportunity to invest in young adults. When I completed school, we decided to move to Colorado and start a family. I got my first teaching job and taught business at Arapahoe High School for 13 years and loved every minute. During these years, I also started investing in food ministry through our current church home and found that very life-giving and a way I felt called to show people love."
The couple decided to make a major life change in 2012 when they both quit their jobs and moved their family to Uganda, Africa for a year of service. Their children, Avery and Henry, were in fifth and third grade at the time. Heather said, "Some of my favorite memories of our time in Uganda were cooking and conversations with the beautiful women who I'm honored to now call my friends."
After returning to the United States, Heather decided it was now or never for pursuing her dream of opening a restaurant with a new clearer vision of that goal than ever before. Her mission in opening GraceFull was to bring all types of people together with food. "Pursuing this dream has been incredibly challenging and even more so rewarding," Heather remarked. "I have the opportunity to invest in the Littleton community every day and help ensure that everyone has access to a fresh, sustaining meal each day. My core values reflect many of our learnings from our time in Uganda, and I use them as a basis to make every decision. They are: invite, welcome and love all people; show you the beauty in simplicity; focus on food that is friendly to your own kitchen; use what we have and limit the excess; give back often and with joy."
Husband Troy was very supportive as Heather began working on her business plan over the next two years while also working in the teaching field part time. GraceFull runs primarily with volunteers and has the special characteristic that meals are offered on a "pay what you can" philosophy. Those who cannot afford the $5 breakfast or $8 lunch meals are given their meal for free. Others who can afford more are able to donate money to the nonprofit GraceFull Foundation to help cover the cost of meals for others, also known as Grace in Action meals.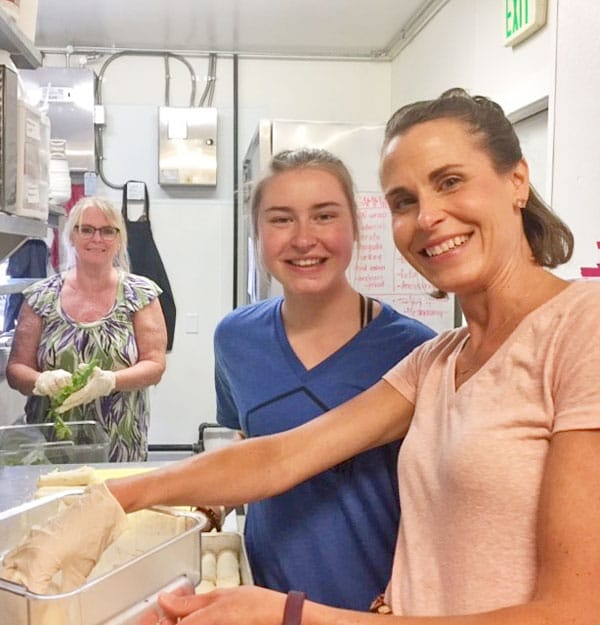 Co-owner of GraceFull Community Cafe Heather Greenwood (right) with her daughter, Avery. The cafe runs primarily with volunteers and a "pay what you can" philosophy.
The humble surroundings in the Littleton cafe are apparent when you enter with tasteful yet moderate decor. The original brick masonry on one wall reveals the building's history, while the remainder of the place has been updated. A framed sign on the wall quite accurately states, "All are welcome around the table." You will find people from all situations dining at GraceFull, including those who are there to donate and help out, as well as those in need of a good, healthy meal that they otherwise could not afford.
GraceFull has a small menu of delicious food. The options on the day we dined there were the weekly choices of a spinach salad with pears, red onions, craisins, sliced almonds with a Dijon balsamic vinaigrette and the sandwich was a toasted ham and Brie cheese on sourdough with a thyme arugula spread. I opted for the half-and-half salad and sandwich served in a large white bowl which was both tasty and filling. The daily option for that Thursday was Parmesan roasted tomatoes.
The weekly breakfast specials included yummy options such as apple cinnamon waffles and herb and bleu cheese egg soufflés, as well as a traditional Tuesday option of eggs, bacon, potatoes and toast. Executive Chef Andrea Milholm came to GraceFull from the restaurant at South Suburban Golf Course where she was the head chef. After a year at GraceFull, Milholm moved on to offer her services to the Denver Rescue Mission last month.
The cafe also offers drinks for $2 such as hot chocolate and lemonade as well as gourmet coffee drinks for $4. GraceFull welcomes donations and encourages community members to volunteer their time at the cafe, prepping and serving meals to others or washing dishes.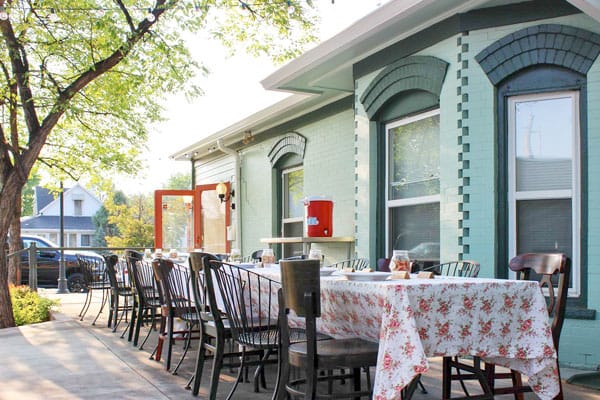 The patio outside of GraceFull is a very pleasant, shady area to relax and enjoy good conversation. If you find yourself in downtown Littleton, give GraceFull Cafe a try. It feels good to enjoy a reasonably priced and tasty lunch as well as putting in a little extra to give back for those who can use some help.
Heather concluded, "I often say one of the best things about running the cafe is that I never know who will walk in the door that day and what their story will be; either as a guest or a volunteer. Sometimes it is a dear friend, sometimes it is someone that has survived hardships in life that I can't even imagine. We love walking alongside our guests and learning their story through shared meals. I have an incredible privilege every day to invest in people and offer them the opportunity to enjoy a fresh and healthy meal in community with others."

GraceFull Cafe
5610 South Curtice Street, Littleton
720-900-5610 . info@gracefullcafe.com
http://gracefullcafe.com/
Breakfast 7 a.m. – 11 a.m.
Lunch 11 a.m. – 2 p.m.
Closed Sunday and Monday