September 1, 2017
/
/
Comments Off

on Meet the Tartz family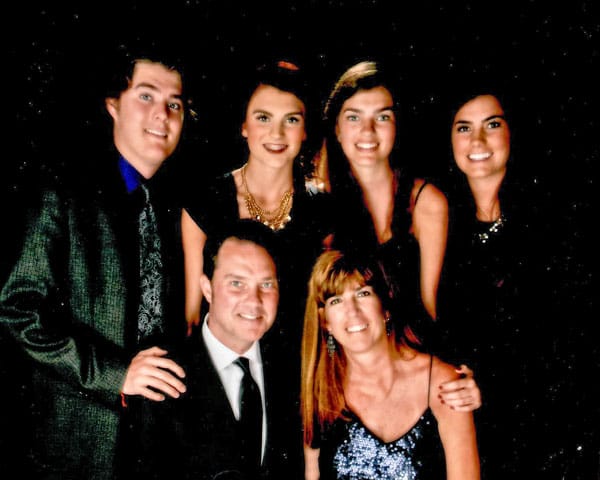 Front row: John and Karla; back row, left to right: Dylan and Morgan (20), Skylar, (18) and Zoe (22).
By Elizabeth Wood West; photo courtesy of the Tartz family
You may know them as your next-door neighbors, or your kids' friends, or your mortgage broker, or your local post office store owner – the Tartz family has a wide and varied reach in the Castle Pines community. John and Karla Tartz, along with their children Zoe, twins Dylan and Morgan, and Skylar moved to Castle Pines in 2010.
The Tartz family grew up in the Midwest and moved first to Lone Tree, and then eventually settled in what they call "the perfect spot surrounded by large whispering pines" in Castle Pines Village. John said, "We chose this area because we wanted a location where our kids could be surrounded by other friends and loved ones – a true community. Our kids grew up in an area with 18 other kids from families that became part of our extended family. We spend holidays, birthdays and vacations together! This area has been truly special for us since we don't have immediate family here. It has been comforting and reassuring to grow, laugh and live with our Castle Pines family."
Karla is an attorney and works as in-house counsel for Charter Communications. Previously, she worked with Governor Hickenlooper in his economic development division and said the experience inspired her to open the Castle Pines Postal Center (which is reopening this month – see page 3).
John is opening a new branch office in Castle Pines for Fairway Independent Mortgage Corporation. John explained, "While I was attending The Ohio State University, I worked for the Ohio Department of Housing providing first-time homebuyers with low interest rate bond money. I was hooked right away on this business and started as a mortgage loan officer right out of college." He has worked in the mortgage industry for more than 30 years at various companies and is now enjoying being able to work directly with individuals and families from his new office in the community, which is housed in the same location as the postal center and which will also open this month.
The Tartz family is very active and enjoys traveling, golfing, skiing and watching movies together. "These are very exciting times for our family, and we are so proud of the accomplishments of each one of our children. While Morgan Rose isn't with us physically to enjoy all the happenings within our family (she passed away unexpectedly two months ago), we know she is with us in our hearts and surrounds us every day with love," said John.