July 1, 2020
/
/
Comments Off

on July 4th
By Lisa Nicklanovich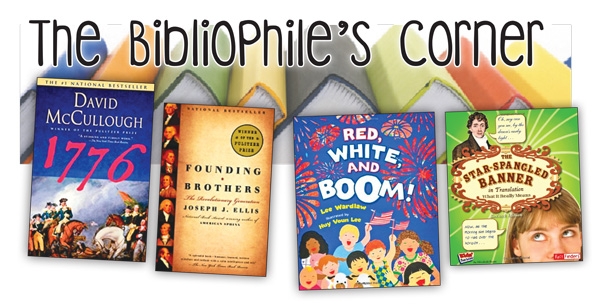 Whether you say The Fourth of July, Independence Day or simply July 4th, the day includes celebrations that go back to the 18th century and the American Revolution. In 1776, on July 2, the Continental Congress voted in favor of independence from Great Britain. It was two days later that delegates from the 13 colonies adopted the Declaration of Independence, the historic document drafted by Thomas Jefferson.
Listed below are just a few books that focus on American history and celebrate our nation's independence.
Adults may enjoy:
Washington: A Life by Ron Chernow is the biography of George Washington told by the American historian who wrote the book that inspired a show you may have heard of – Hamilton.
1776 by David McCullough is a must-read to understand or revisit the details of how our country was founded. It humanizes what the start of the American Revolution was like for both Americans and the British.
Founding Brothers by Joseph Ellis explores the founding of our country through six crucial events: the duel between Alexander Hamilton and Aaron Burr; George Washington's moving Farewell Address; John Adams' presidency and relationship with his wife, Abigail; the deliberation over where the U.S. capital should be; Benjamin Franklin and James Madison's disagreements over the issue of slavery; and Thomas Jefferson and John Adams' letters.
Children and young adults may enjoy:
The Star-Spangled Banner in Translation: What It Really Means by Elizabeth Raum will help readers understand some of the words behind the anthem. There are other translations of historical documents for kids by this publisher such as The Bill of Rights and The Pledge of Allegiance in Translation.
Red, White, and Boom! by Lee Wardlaw has many descriptive words and rhyming text with a 4th of July theme such as "Fireflies flit and Sparklers spit".
The Flag Maker by Susan Campbell Bartoletti tells the story of the flag that inspired Francis Scott Key to write the words that became the national anthem of the United States. In lyrical prose, the story of the Star-Spangled Banner is told from the perspective of young Caroline Pickersgill, the daughter of an important flag maker, Mary Pickersgill, and the granddaughter of a flag maker for General George Washington's Continental Army.
Happy Birthday America by Mary Pope Osborne and illustrated by Peter Catalanotto is about a family of three generations celebrating the holiday with traditional activities and a small-town feel. There is some history about the holiday and colorful illustrations.