March 1, 2018
/
/
Comments Off

on Latvia: Baltic middleman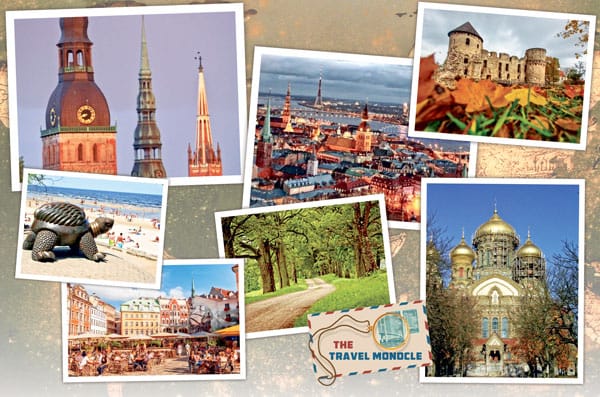 Article and photo by Joe Gschwendtner; photos courtesy of Latvia.eu
Sandwiched between Estonia and Lithuania, Latvia accommodates some 2 million people. Like Estonia, her terrain is rich in natural beauty, thickly forested with rolling plains. But for capital Riga with a million inhabitants, Latvia is otherwise a country of small towns and villages.
In a two-week driving tour of the Baltic, I would allocate three to four days in Latvia, traveling principally near the capital. Start in Riga, head counterclockwise through Jurmala, then east again bypassing Riga to Gauja National Park.
In Riga, sample the spirit of another former Soviet client state oxygenated with freedom. World Heritage-listed Old Riga on the Daugava River offers much to see with museums, churches, parks and strolls galore. The Occupation Museum and Town Hall Square are musts. My favorite stroll was along Pilsetas Canal (City Canal). Moving southeast from Kronvalda Park you will cover a rich eastern seam of old Riga, topping Bastion Hill and passing the Freedom Monument.
Riga is also a glorious study in architecture with 800 buildings designated "art noveau." Theory holds that art noveau was a progression from neo-classical to modernism. Like Denver's Cherry Creek Gothic, wealthy merchants sought external ways to project their affluence. Their architectural flourishes become your visual feast. For foodies, restaurants and coffee houses abound. Local specialties include piragi (pierogi), putra (porridge) and potato pancakes.
Rigans seeking salt water flock to Jurmala on the Gulf of Riga. Thirty minutes out, it is not so much a city as a series of small resorts. Visit a kilometer-long pedestrian strip, Jomas Iela, where tourists come to dine, mingle and shop. The beach itself is actually 32 kilometers long, a longtime favorite of hardline communists, like Nikita Khrushchev and attracts Russian oligarchs today. Kemeri National Park is nearby and its bog boardwalk is a much-traveled tourist attraction.
Looping back northeast and after navigating Riga's dense traffic, one reaches Sigulda, base camp for Gauja National Park. As Latvia's oldest and largest such park, it offers a broad range of natural beauty (sandstone outcrops, rocks, cliffs and caverns) and numerous cultural attractions (castles, manor houses, wind and water mills). If nature is your passion, this idyllic park is essential.
There is a loop to the west worth taking after Jurmala if time is not an issue. Head southwest making a whistle stop in Kuldiga. A quaint town with timbered houses, view the widest (550 foot) waterfall in Europe.
Then travel west to Liepaja on the Baltic. This third largest city with a slightly grimy look offers a window on Soviet history as a former naval base of 40,000 men. Being ex-military, I found it instructive to see a Soviet military living community. A bonus is former Karosta Military Prison, which offers you an a la carte menu of incarceration, escape and even overnight accommodations. Still in Karosta district is Seaside Park. North of it is the best beach in the city. Further to the east is the Alexander Nevsky Cathedral, an iconic show stopper with golden onion-like cupolas.
Inasmuch as this is Latvia's centenary year, a visit may well be especially rewarding.