Rock Canyon receives American Spirit Leader Award
February 1, 2018
/
/
Comments Off

on Rock Canyon receives American Spirit Leader Award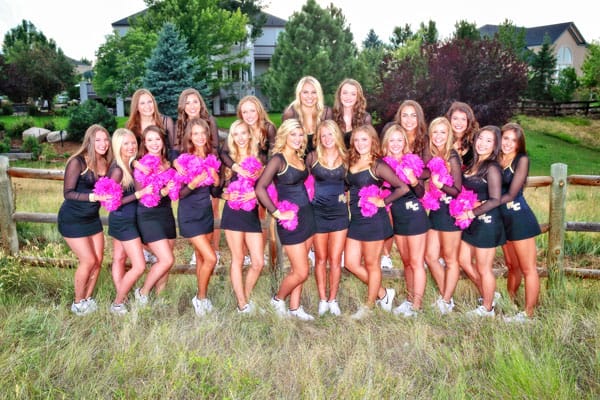 The RCHS poms team recently won the Varsity Brands 2018 American Spirit Leader Award with an approximate retail value of $8,000. The program supports RCHS athletic events and programs at all levels. The varsity team has been named as a CHSAA Academic State Champ for three consecutive years, participates in a multitude of community events and hosts Junior Jag dance camps throughout the year.
By Lisa Nicklanovich; photo courtesy of RCHS
The Rock Canyon High School (RCHS) spirit and poms program, that includes varsity, junior varsity and freshman, is the 2018 winner of the American Spirit Leader Award from Varsity Brands. The organization honors one dance team that has an ongoing commitment to community service, outstanding school athletic support, creative spirit raising activities and strong academics.
The RCHS team will be recognized at the National Dance Team Championships over the weekend of February 3 and 4 at the Wide World of Sports in Orlando, Florida. The prize includes travel and accommodations to the award ceremony, as well as a cash award, a gift certificate to attend a 2018 dance camp, a feature story in a spring 2018 issue of American Cheerleader magazine, a feature spot on ESPN and a feature video story on Varsity TV.
The application process involved submitting, among other requirements, an essay and a video. Senior captain and Castle Pines resident Olivia Wheeler took leadership of both. Wheeler's essay summarizes the team's commitment to spreading community spirit in many forms, as well as performing at school athletic events. "Our hearts lie with our Jaguars," Wheeler wrote, and "As spirit leaders, it is our duty to make school spirit fun and inclusive to our entire Rock Canyon community. Spirit does not just happen – it must be built. We aim to build school spirit for current and future Jags – no matter who they are."
"We truly aim to be well-rounded," said coach Christina Leone. "I believe we have found a great balance, learning over the years how to balance our game commitments, serve the community, maintain excellence in the classroom (the varsity team finished with a 3.8 grade point average), be school leaders and still compete at a very high level. It is physically, emotionally and personally challenging, but also incredibly rewarding."
Wheeler said, "This program has been such an influential part of my high school journey and who I am today. I wanted to win it for poms alumni and every coach, parent and dancer who has believed in these girls just as much as I do. I believe this award is even more powerful than the others we have in our trophy case because it acknowledges the best aspects of our program and the impact we have as leaders in the community around us." Congratulations ladies!