Lithuania: Another Baltic journey worth making
April 1, 2018
/
/
Comments Off

on Lithuania: Another Baltic journey worth making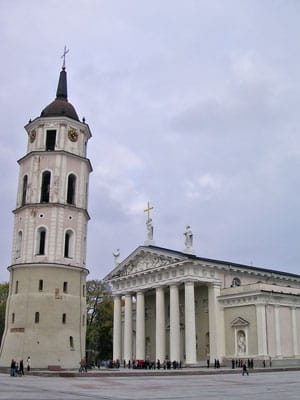 Cathedral Square in Vilnius was the start of a human chain "The Baltic Way"– more than 2,000,000 people linked by hand to the Baltic Sea demonstrating solidarity of their suffering under the USSR.

Article and photos by Joe Gschwendtner
Lithuania is the southernmost and most populous of the three Baltic Republics. Like her neighbors, she offers gentle hills, dense forests, sparkling lakes and marshlands. Comparing cultural differences is challenging, so I will highlight only the physical treasures unique to Lithuania. My favorites: Vilnius, Trakai, Hill of Crosses, Klaipeda and the Curonian Spit. An enriched five-to-seven day itinerary begins in Vilnius, loops westward to the Baltic and returns through Trakai.
Vilnius is magnetic, absorbed best by pedestrians. Old Town is a potpourri of churches and spires, towers and museums, assorted art and learning institutions. All with ubiquitous coffeehouses and cafes among them. An architectural heaven, the city showcases gothic, neo-classical and "Vilnius Baroque" styles. One's attention cannot be anything but riveted on this concentrated urban beauty. No surprise; Vilnius is a UNESCO World Heritage site. Your mission: walk until exhausted!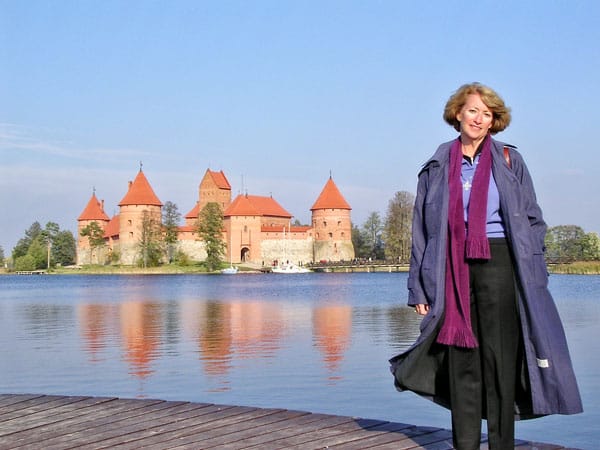 Gschwendtner's travel partner, wife Barb, pictured on the bank of Lake Galve' across from Trakai Castle.
Enter Cathedral Square and the Vilnius Cathedral. It was in the courtyard here in 1989 that a human chain across the Baltics began. At its terminus in Tallinn, more than two million people had locked hands (1/3 of the entire Baltic population), demonstrating their solidarity for independence to the world. Visit Vilnius University bookstore, Littera, with its frescoed arched ceilings. Mount Fortress Hill to the Upper Castle built in 1419 by Grand Duke Gediminas, and pleasure in the sprawling panoramic beauty of this city of crosses.
Heading northwest, approximately 150 minutes will get you to Siauliai and the Hill of Crosses. Religious or not, the Hill will impact you. Better named the hill of oppression, locals took to planting crosses there after a failed tsarist uprising in 1831. So too with Communist oppression post WWII. Marxists would bulldoze them, and they would reappear in greater numbers. Even after independence the hill grew, today numbering in the hundreds of thousand crosses. Some are merely inches; others as big as those of Calvary.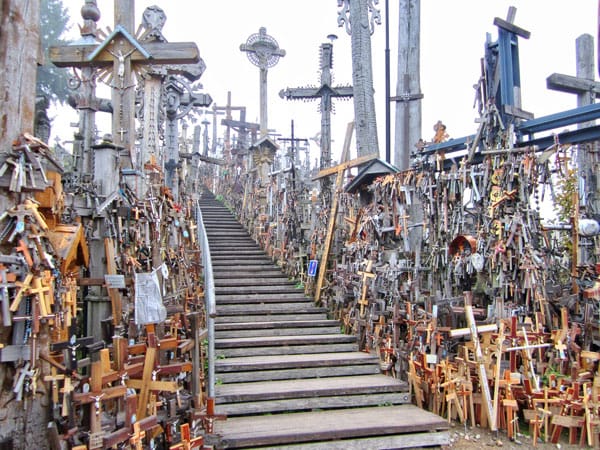 The Hill of Crosses in Siauliai
West and to the Baltic is Klaipeda, the former East Prussian town of Memel. Old Town is small with cobbled streets and alleys, easily walkable. Enjoy her Germanic atmosphere. But you are really here to ferry out to the Curonian Spit, a narrow 60-mile strip of sand and trees running south, creating a substantial inland lagoon. Halfway down the strip, your access is halted at the border sign. Russia (formerly German Konigsberg and now exclave of Kaliningrad) warns you away.
Not to worry, the Lithuanian half (30 miles) is breathtaking: breezy and wildly beautiful and another UNESCO site in its entirety. Ocean winds sculpt shifting dunes. Like Colorado's own, they make for a unique outdoor experience. Little fishing villages punctuate the spit. The furthest, Nida, is idyllic with signature thatched roof cottages trimmed in various Prussian blues. Many have freestanding hand-carved weather vanes. Enjoy flavorful locally-smoked fish and seaside walks at sunset.
Returning to Vilnius, pause and experience Trakai, King Gediminas' medieval castle in a region of 200 lakes. With weather and sunlight just right, the castle setting is unforgettable.