A Holocaust survivor and the Golden Rule
May 1, 2018
/
/
Comments Off

on A Holocaust survivor and the Golden Rule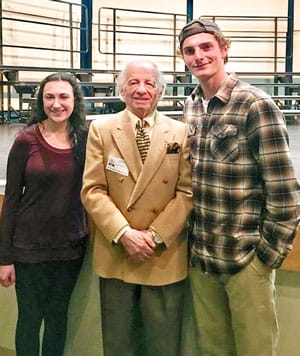 Rock Canyon High School students Ellianna Lederman and Brad Hansen and Holocaust survivor, Lone Tree resident Jack Adler (center).

Article and photo by Daniel Williams
On March 27, Holocaust survivor Jack Adler stood before a packed house in the auditorium at Rock Canyon High School (RCHS) and recounted his story, a story he has told to more than 1.5 million people around the globe, and one he will continue to tell in efforts to eradicate hatred, discrimination and racism in the world.
"The Nazis had heard the Americans were coming," Adler said, in describing his final days in Dachau concentration camp. "So they forced prisoners to walk in what they now call the Dachau Death March. When the U.S. soldiers liberated us on May 1, 1945, I was too weak to go on. I don't believe I could have survived another day."
In the hospital, Adler weighed 65 pounds. He was 16 years old. And he was alone. His mother, father and three siblings had all died in the ghettos and concentration camps of the Holocaust. Now, when he speaks to groups, he remembers his loved ones and the others who died in the Holocaust. "My story is like many others," Adler said. "I do not represent anything special except mine is a voice that will not be quiet. I will speak so the memories of six million will never be erased."
Before he closed, Adler delivered his core message to the crowd. "Do not allow yourself to be a party to hatred in any work, intention or action. Never treat anyone in any way that you yourself would not want to be treated. Live by The Golden Rule."
Ellianna Lederman and Brad Hansen, juniors at RCHS and leaders of the Jewish Student Club, organized the event. They both stood near the stage in the auditorium, trying to comprehend this story they were hearing, imagining a teenage version of Adler enduring these horrible atrocities and amazed at how he could use his story to educate and inspire others.
"I have witnessed anti-semitic actions to me personally," Hansen, a Castle Pines Village resident, said. "And it means so much to hear Mr. Adler's story, how he's been through something so terrible and dehumanizing and yet he's able to come through that with a positive view on life."
Lederman, also a resident of Castle Pines, said she was impressed by the reaction of the more than 600 students, faculty, parents and members of the community in attendance. Days after the event, Lederman continued to reflect on Adler's message. In an email, she wrote, "Something that has stuck with me is how we identify ourselves by many different labels, but it is important to remember that we are all part of the same race: the human race. Respect is essential to creating a peaceful world free from hate."
Editor's note with information provided by the Chabad Jewish Center
The Chabad Jewish Center, in partnership with the Mizel Museum, will present a community-wide film screening of "Surviving Skokie" on May 6 at the Lone Tree Arts Center at 3 p.m. The film is being shown in honor of the Days of Remembrance, the nation's annual commemoration of the Holocaust.
Surviving Skokie is a riveting film about a group of courageous men and women who survived the horrors of the Holocaust only to face a virulent anti-Semite in America. It features Jack Adler's story. His testimony offers timeless lessons that connect the past to the present and demonstrate the value of living without hate. Following the film, Adler will address the audience and answer questions.
Tickets are on sale through the Lone Tree Arts Center at 720-509-1000. For more information, visit www.DenverJewishCenter.com or call 303-792-7222.