Meatless Mondays in March
March 1, 2018
/
/
Comments Off

on Meatless Mondays in March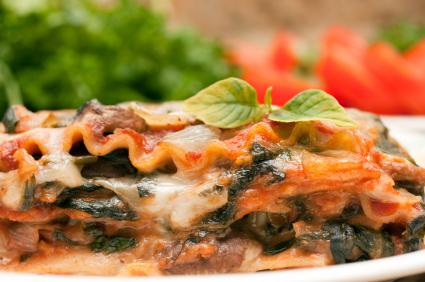 By Lisa Crockett
Proponents of vegetarianism often tout "Meatless Monday" as a way to get a proverbial "taste" of what a vegetarian lifestyle might feel like. Whether or not you're looking to make a switch to vegetarianism, however, the occasional meatless meal is a great way to make meals healthier and more interesting. Here are some ways to put plant-based foods in a starring role on your table, on Mondays, or any other day of the week:
Lentils: These little legumes have a nutrition profile similar to beans, but their size provides the perfect texture for substitution in place of ground beef. Simmer ⅔ cup of dry red lentils in 1 ⅔ cup broth for about 30 minutes. Then, stir in a packet of dry taco seasoning mix and serve in warmed taco shells with tomatoes, lettuce, sour cream and cheese.
Cauliflower: This cruciferous vegetable is the darling of nearly every healthy eating style. Chopped finely, it can stand in for rice. Left whole, it can be seasoned and grilled in much the same way a burger or steak can. Try a cauliflower bake in place of a pasta-based casserole: steam cauliflower over medium heat in a saucepan until florets are tender. Drain and mix with a good-quality jarred marinara sauce. Pour into a casserole dish and top with a mixture of shredded Parmesan and mozzarella. Bake at 350 for 20 minutes or until cheese melts.
Quinoa: This nutritional darling can be used in place of rice, or beans, or both. Its nutty flavor makes it a good candidate for taking center stage, though, so it's great for a warm, main-dish salad. Cook quinoa according to package directions, then sauté it in a few teaspoons of olive oil with chopped yellow onion, chopped dried apricots, and chopped baby spinach. Top with bottled lemon vinaigrette, chopped tomato and chopped almonds.
Beans, beans, beans: The workhorse for dishes without meat, the ways beans can be used is almost endless. Chili, burritos and baked beans can be made as usual simply omitting any meat called for and increasing the amount of beans. For a decadent treat, mix an eight-ounce block of cream cheese with a can of refried beans; spread the mixture in a square baking dish and sprinkle with a cup of shredded Colby-jack cheese. Bake at 350 for about 20 minutes and serve slathered in chunky bottled salsa. Scoop up with whole-grain chips.

Tofu: Don't fear this versatile ingredient. To make give it a more "meaty" texture, slice it to about ½ inch, place between paper towels and then place a heavy pot or pan on top to squeeze out moisture. After 30 minutes of pressing, chop into bite sized pieces and pan fry with chopped veggies. Top with the sauce of your choice (teriyaki sauce is a classic) and serve over rice.
Eggs: Quick, cheap and highly nutritious, eggs can save dinner when time is in limited supply. Omelets, veggie scrambles and egg salad are all great options. For a budget-friendly (and waste-cutting) option, cube day-old bread, spread it in a greased baking pan, and top with enough scrambled eggs to cover. Allow bread to soak for about 30 minutes, then bake at 350 for about 20 minutes. Top with sautéed red pepper and onions.
Mushrooms: These mild-flavored veggies give enough heft to vegan meals to make them satisfying and hearty. In a stir-fry with a savory sauce, they're great in a starring role. For a new twist, marinate large portobello mushroom caps in balsamic vinaigrette, then grill or cook under the broiler, about six minutes per side. Dress these beauties up just as you would a beef burger and serve on soft buns.