The Bibliophiliac's Corner "The Glass Forest"
February 1, 2018
/
/
Comments Off

on The Bibliophiliac's Corner "The Glass Forest"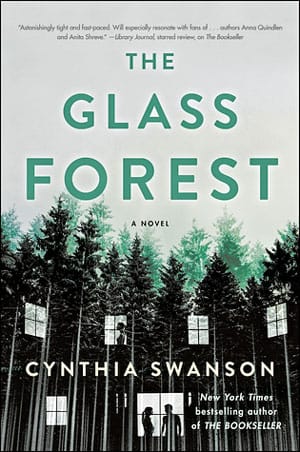 By Amanda Merriman
Connection writer Amanda Merriman admits she is hopelessly addicted to books. It has been this way nearly all her life. Every month she shares what she has been reading with the hope that others will share in the obsession too.
When I read second novels of authors I admire, I often do so with some apprehension. Subsequent books frequently fall short of the hype generated from debut works. When I received an advanced copy of Cynthia Swanson's book "The Glass Forest," I began reading it with my usual concern. Readers may remember Swanson's debut novel, "The Bookseller," was featured in the Bibliophiliac's Corner and in a separate story about the local book club Women, Words, and Wine from the March 2016 edition of The Connection.
My apprehension turned out to be unfounded as I dug into this mid-century tale of suspense. Swanson's details were spot-on for this period. I felt transported back in time as I read about the Glass family and all of their dark secrets. The book follows three women in the family, spanning from WWII to the 1960s. I enjoyed how Swanson captured what it was like to be a female in the mid-20th century. Angie, a young newlywed, is married to Paul following a hasty courtship. Angie and Paul must travel to New York after they discover that his brother Henry committed suicide. Henry's wife Silja took off, leaving a note and her teen-aged daughter Ruby behind. Silja's whereabouts are a mystery. Angie unwittingly begins a journey that uncovers all the family's skeletons. The Glass Forest is a slow burn of a read that will make readers reluctant to put the book down.
The Glass Forest is due to be published on February 6. Suzi Scott, from Women, Words, and Wine looks forward to attending a reading and release celebration for the book at the Tattered Cover on Colfax on this date. The book club will meet in July to discuss the novel. In other Swanson news, fans of The Bookseller will be excited to hear that the movie adaptation is currently in development.
Fellow bibliophiles and book club members, feel free to join in the dialogue. Blog your thoughts and feedback at www.castlepinesconnection.com and enter the keyword "bibliophiliac" in the search bar. Have you read a great book recently? Email your find to me at amerriman@castlepinesconnection.com.