No access to new school via Monarch Boulevard
June 1, 2009
/
/
Comments Off

on No access to new school via Monarch Boulevard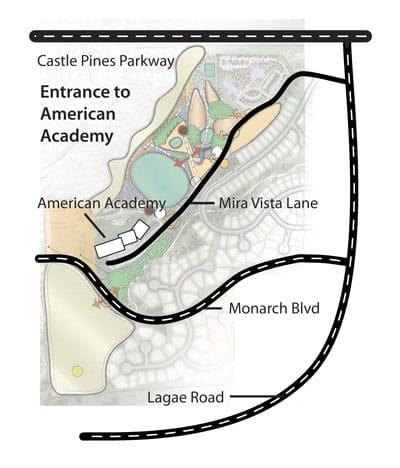 by Lane Roberts
With the opening of a new charter school in Castle Pines North (CPN), may residents have expressed concerns regarding a potential increase in traffic along Monarch Boulevard, primarily near Buffalo Ridge Elementary School.
American Academy, a Douglas County K-8 charter school, is set to open in their new 83,000 square foot facility in late September with more than 790 students. The school will be located on Mira Vista Lane, a new road that will connect at Lagae Road adjacent to the King Soopers Shopping Center.
Monarch Boulevard will not connect to Mira Vista Lane, nor to American Academy, according to the plat for the Lagae Ranch development that was approved last year by the city council. (See map to the right.)
According to developer Chris Fellows of HF Holdings, LLC, until they proceed with the Lagae Ranch development, there are currently no plans to extend Monarch Boulevard in the near future.
"Monarch is not scheduled to open for some period of time," he said. "We went out of our way to design the subdivision so that it is really inconvenient to access American Academy from Monarch. One reason the HOA1 board gave unanimous support for this development was that we made concessions, considerations and design changes as part of the iterative negotiation and design process."
Kurt Connolly, owner's representative managing the construction of American Academy, says the school will only extend Monarch Boulevard approximately 200 feet to allow paved fire access as required by South Metro Fire Rescue. A paved trail will also extend from Monarch behind the school down to a future park site.
Connolly says a walker or biker could connect to future trails on the plat that are planned by the developer, but no vehicles coming from Monarch Boulevard can access the trail. "Only the fire department will have access to the gated area," Connolly said.
"American Academy and the developer assured the community that there would be no [non-emergency] vehicle access to the school from Monarch and there will not be," said Erin Kane, board president of American Academy and CPN resident. "All American Academy traffic by vehicle has to take Castle Pines Parkway to Lagae Road to Mira Vista Lane."
The school is funding and building Mira Vista Lane, the new access road to the school, a future park, and a potential church site. The school plans to pave the new road this summer.
According to Kane, the new three-quarters-of-a-mile access road [Mira Vista Lane] will be long enough to accommodate the entire carpool line for American Academy.
Lagae Road, which connects to Castle Pines Village, is set to be realigned according to the plat for the development. The realignment will not occur until such time that the developer moves forward with plans.
School Construction Rapidly Moving Forward
Connolly says construction on the new school is currently ahead of schedule.
"Haselden Construction has really been working overtime to help us meet our tight schedule," said Connolly. "We are so thankful for their efforts on this project."
Learn more at www.americanacademyk8.org.