Castle Pines Authors' Reception
July 1, 2009
/
/
Comments Off

on Castle Pines Authors' Reception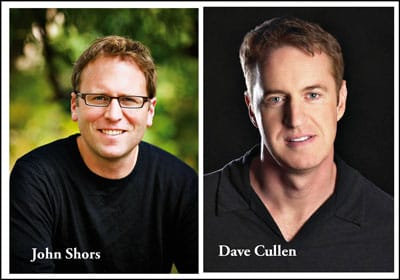 Margie Woodruff
Foundation Manager
Douglas County Libraries Foundation
303-688-7638
Contact by e-mail
100 South Wilcox Street
Castle Rock, CO 80104

Castle Pines Authors' Reception featuring John Shors & Dave Cullen
John Shors and Dave Cullen will be the featured at an Authors' Reception on August 20, 2009, 6:30 – 8:30 p.m. at the Cherokee Ranch & Castle, 6113 N. Daniels Park Road, Sedalia, CO 80135-8716. Tickets are $50 per person and includes a dessert reception and tours of the magnificent Cherokee Ranch & Castle. Both authors' books will be sold, and they will participate in a book signing session. A cash bar will be available. Proceeds will benefit the new community funded Castle Pines Library. The Authors' Reception is part of The Book Week End, which offers events for all ages.
John Shors is a full-time novelist whose first two works, Beneath a Marble Sky, and Beside a Burning Sea, have won multiple awards and have been translated into more than twenty languages. Hollywood is making a film based on Beneath a Marble Sky. Shors' third novel, Dragon House, tells the tale of Iris and Noah, two Americans, who open a center to house and educate Vietnamese street children. It will be released September 1.
Dave Cullen's is the author of Columbine is an indelible portrait of the killers, the victims and the community that suffered one of the greatest tragedies of the 20th century. He is a journalist who has contributed to Slate, Salon, and the New York Times. Cullen is considered a leading authority on the Columbine killers and has also written extensively on Evangelical Christians, gays in the military, politics and pop culture. A graduate of the MA program at the University of Boulder, Cullen has won several writing awards, including a GLAAD Media Award, Society of Professional Journalism awards and several Best of Salon citations.
For ticket information contact: Sharon Kollmar (303) 688-3359.