Explorers Take Home Many Trophies from State Competition
July 1, 2009
/
/
Comments Off

on Explorers Take Home Many Trophies from State Competition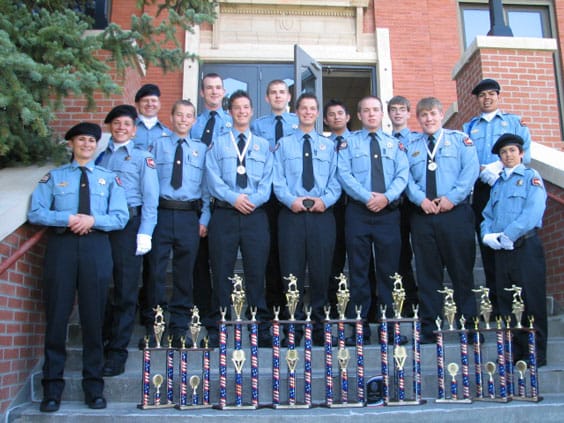 Douglas County Sheriff's Office Explorers Take Home Many Trophies from State Competition

Submitted by Deputy Cocha Heyden
Public Information Officer
Douglas County Sheriff's Office
303-660-7586
Members of the Douglas County Sheriff's Office Explorer Post #10-4 participated in the 2009 Regional Explorer Conference held in Gunnison, CO, during the week of July 6th. The Douglas County Explorers competed with over 160 other Explorers from all over the state, as well as, Texas, Arizona and California. The competitions were wide-ranging and included many functions that a regular patrol officer would be expected to accomplish, including: Hostage Negotiations, Obstacle Courses, Cell Searches, High Risk Traffic Stops, Officer Down Scenarios, just to name a few.
The following is the list of awards recipients and the categories that they placed in: Claire Yakabe; 2nd place in the individual Obstacle Course, 3rd place in Suspicious Incident, and 3rd place in Hostage Negotiations, Christian Castillo; 1st place in Cell Search, David Marquez; 2nd place in Cell Search, Mike Lohman; 1st place in Crime Scene, Josh Meyers; 4th place in Crime Scene, Ross Copland; 1st place in Officer Down, Dylan Nieto; 1st place in Hostage Negotiations, Sean Hutchison; 2nd place in Hostage Negotiation, and Patrick Lamb; 5th place in Hostage Negotiations.
The Post also received the Team Spirit Award. This says a lot about the kids involved and their adult Advisors. This team would not be a good as they were without the support of their Advisors, the Sheriff's Office and of course the parents involved.
Explorer Post # 10-4 is an all-volunteer auxiliary sub-organization of the Boy Scouts of America. This effective program allows young people, aged 14 to 20, who are interested in exploring law enforcement as a career, to interact and train with sheriff's deputies. The Post also performs numerous service and volunteer functions throughout the community.
The Post is accepting new Explorer applications. If you meet the age requirements, are attending high school, and interested in an exciting career in law enforcement, come join us. For more information email Contact by e-mail or call Deputy Ann Walton at (303) 814-7001.
Sheriff Dave Weaver said "I am very proud of Post 10-4 and the dedicated deputies who devote their time, energy, and experience to help these young people realize their law enforcement goals. We are privileged to have several former Explorers serving with the office."