Road rapture in Castle Pines
March 1, 2023
/
/
Comments Off

on Road rapture in Castle Pines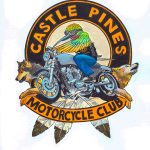 In 2012, as my love affair with my two-wheeled companion "Shadow" ended, I helped bring the emergent Castle Pines Motorcycle Club to community attention.
More than a decade later and tens of thousands of road miles farther, it appears that its members are at full throttle now.
The club is many things, most of them noble; the remainder, just plain exhilarating. According to Club President Todd "Wheels" Wheeler, the brotherhood is not exclusive as it has periodically incorporated women who also feel the urge to straddle a Harley and hit the road. Most of it members are highly successful people needing an outlet; a change of pace from a business life they have mastered.
The club's emphasis on safety has never been stronger, and the single biggest precondition for joining is riding intelligently and responsibly – and to prove it. The details on this test are a bit nuanced, but only serious riders are accepted.
While Harley-Davidson or Indian brand bikes are not required, mentioning anything else like a Honda might just bring a guffaw or snicker. And just in case you wondered, new Harley's run the gamut from $20,000 to $55,000.
Their mascot is a brash, well-muscled green hummingbird first drawn up on a napkin in a beer hall. Their bad little bird and now their brand is useful to project an image of strength, brashness and elan. In reality, these are responsible middle-aged folks seeking high-spirited fun together.
Yearly events make for spirited adventure. There's always the annual event in Sturgis, much akin to visiting a shrine. Then there are trips to Jackson Hole, Phoenix and the annual mystery ride where only the leader and tail man know the destination.
The club offers fun for spouses, too. They can hoot and holler with the best of them, and in many instances are the perfect catalyst for the partying that goes on when the ride ends.
I wondered about alcohol as an issue, as more than a few cyclists have mixed booze and asphalt and come up on the losing end. In no uncertain words, I was told that the party only starts when the wheels are chocked for the evening. The truth is that its members are responsible big kids with high intensity lives who yearn for escape laced with adventure and new horizons and a chance to bond in the process. Having enjoyed 15 years of such thrills myself, I cheer them on.
Yet, the members are also thankful to their Maker and the good fortune which they enjoy in their individual lives. To this end, they give back generously – their most notable contribution being in the form of financial support for SungateKids, a nonprofit offering screening and therapeutic support for abused children.
In trying to understand how the members might see themselves riding off in the sunset, one member said he might be able to handle a trike – an un-macho three-wheeler, with two of its wheels on the back. But he grimaced when he answered and then said, "It sure beats a wheelchair!"
Learn more at https://castlepinesmc.com/.
By Joe Gschwendtner; photos courtesy of the Castle Pines Motorcycle Club