Spice up your table with buffalo cauliflower "wings"
November 1, 2020
/
/
Comments Off

on Spice up your table with buffalo cauliflower "wings"
Article and photo by Lisa Crockett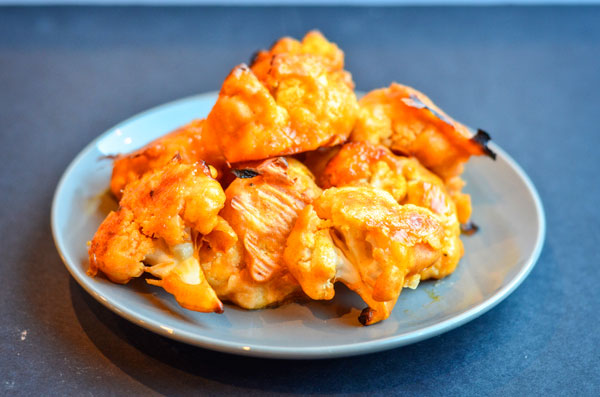 One of the things I love about food and cooking is that it's a great way to bring very different things together and discover how to make a whole that is greater than the sum of its parts. Restaurant chefs do this all the time, combining flavors from different parts of the world to great effect, bringing us favorites like avocado black bean egg rolls, tandoori chicken burgers, or even the famous banh mi sandwich – traditional Vietnamese fillings on a crusty French baguette. Sometimes even the most bizarre-sounding combinations are actually wonderful, like the tasty bacon chocolate bar I once devoured at Vosges in Chicago, or the ramen burger I bought from a cart in San Francisco. Paired with an exciting ingredient, even the most pedestrian pantry item can become the star of the show. This month, after years of eating and enjoying the fusion cooking of others, I set to work at creating a fused dish of my own.
In the spirit of the buffalo, and bringing that theme to the table, I spent a few days tinkering with all the ways to use buffalo sauce. There is a whole world of buffalo recipes, everything from buffalo mac n' cheese to buffalo chicken sushi. Buffalo sauce tends to be potent, so it is often paired with something to cool it down; bleu cheese dressing is the classic, but many recipes also add cream cheese, starchy bread or cracker crumbs, or fruit to balance the warm hit of the sauce. In nearly all instances, the "balancing" ingredient tends to contribute to a product that is an indulgent treat rather than a healthy choice. One pairing that breaks that trend is buffalo sauce with veggies. Turns out, that spicy sauce on its own is fairly nutrition neutral. It's not nutrient dense, but also not terribly calorie dense either. Slathered on a vegetable, it lends maximum flavor and wakes up what might otherwise be a ho-hum addition to the dinner table.
Buffalo Brussels sprouts were first on the docket in my fusion journey. I roast Brussels sprouts regularly and adding buffalo sauce in the roasting process was interesting, but each component has such a strong flavor on its own, I found the final product a bit lackluster. One of the things that makes chicken such a perfect vehicle for buffalo sauce is its mild flavor, so taking a cue from restaurants far and wide, I carved up a head of cauliflower and drenched it in a simple spicy breading, then basted it with a honeyed-buffalo concoction. When I pulled it from the oven, appealingly charred and fragrantly inviting, I had to admit it looked worthy of a restaurant appetizer platter, not so very unlike a basket of wings.
The cauliflower was warm and delicious. The flavor was hot and spicy, and I was glad I had a large glass of ice water on hand to cool the heat. I tested it with bleu cheese and ranch dressing, both of which tempered the spice and tasted good, but I actually liked it on its own the best. I opted to use classic Tabasco sauce in my preparation, but for those who desire something less tongue scorching, a milder hot sauce is a great option. Alternatively, you could decrease the amount of hot sauce and swap in a greater amount of honey to tip the ratio a little away from the spicy in favor of the sweet.
Later this month, families and friends will gather to give thanks, and a platter of these babies would be a fun and easy addition to any feast. Set them next to the green bean casserole and be amazed at how excited people will be to give something new a taste test. You could also spice up other components of your feast, perhaps with a bit of buffalo sauce in the mashed potatoes. Or, for the really intrepid among us, a buffalo-roasted turkey might just be exactly what you're looking for this holiday season. It's the kind of fusion cuisine that's right at home on just about any table. A few short weeks ago, that kind of change in our holiday menu might have seemed almost blasphemous, but now that I've given it a try . . . well, maybe. Look for it on my buffet right next to the caramel apple wontons and the Korean tacos.