Mountain Christmas tree hunting
November 1, 2020
/
/
Comments Off

on Mountain Christmas tree hunting
By Patte Smith, photo courtesy of USDA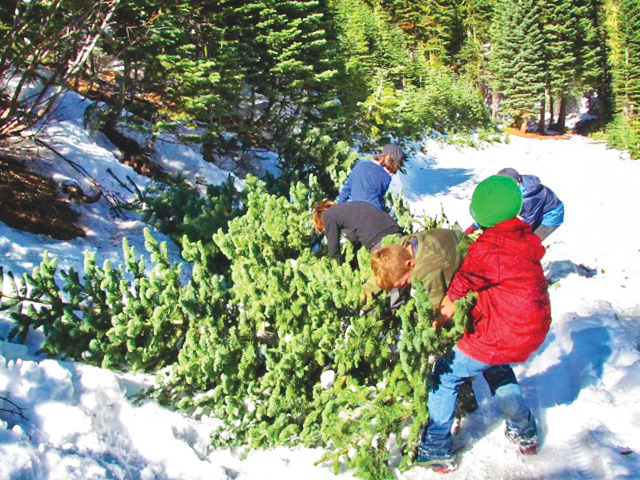 Get out of the house this year for fun freedom in the glorious Colorado mountains. Breathing in fresh air while tromping through the forest in search of the perfect holiday tree is exhilarating. Dress warm and be prepared for winter weather, or who knows, it might be warm and sunny – the perfect weather for a tailgate after the tree is secured to the roof of the car. Finding that perfect tree is a quintessential Colorado Christmas tradition.
This year, Golden Gate Canyon State Park (GGCSP) is issuing 250 Christmas tree permits through a lottery system. From November 1 through 15, those interested can apply for the lottery to obtain a permit. Visit https://cpw.state.co.us/placestogo/Parks/goldengatecanyon to apply. Phone orders are not accepted. Permits are $35 per tree and trees must be cut with a handsaw or ax. For information about GGCSP and its location, visit https://cpw.state.co.us/placestogo/parks/GoldenGateCanyon.
The South Platte Ranger District tree permits for Buffalo Creek, Camp Fickes and Sugar Creek must be purchased in advance, no on-site permits are available. In previous years, permits were requested by mail; this year permits must be purchased online and printed out. There is a limit of five trees per household, and permits are $20 per tree. To purchase permits, visit https://www.recreation.gov/tree-permits/49f7193c-e64e-11ea-a244-5e6d4b9f6262/order.
The Buffalo Creek area may have snow and icy conditions, so be prepared. This is a fun area to have a picnic and search for a Christmas tree. Trees must be cut on National Forest Service land only, and not on private land. Be sure to bring a handsaw, no chainsaws are allowed, and you need to attach individual permits to each tree. Trees larger than 6 inches in diameter at ground level and more than 25 feet tall cannot be cut down.
The Camp Fickes area does not allow trailers or picnics within the cutting area. High clearance 4-wheel drive vehicles are required for access at the end of Forest Service Road 550. Sugar Creek is along Douglas County Road 67, approximately 1.5 miles south of the Sprucewood/County Road 40 junction. This area is best accessed from Sedalia off of Highway 85 (Santa Fe Drive).
The Pikes Peak Ranger District office will be selling permits online at https://www.recreation.gov/ starting in mid-November. Check the website often for more information during the month and to purchase permits and get the location of the cutting area. Permits are $20 each with a limit of five.
The South Park Ranger District is located over Kenosha Pass and encompasses the high elevation valley known as South Park. Users can purchase up to five permits and can then cut trees any day until December 31. Permits are $20 each.
For more information about Colorado Forest Service Christmas tree cutting and permits, visit https://www.recreation.gov/.