November 1, 2016
/
/
Comments Off

on The Rock rocks the press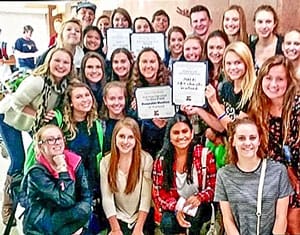 The 2016 Rock Canyon High School newspaper and yearbook staff celebrating their victory at a state-wide competition. The Rock newspaper was recently nominated for a Crown Award, presented by the Columbia Scholastic Press Association.


By Riley Busch, RCHS intern writer
The Castle Pines community has prided itself on its award-winning feeder schools and education programs, and yet again, Rock Canyon High School (RCHS) is adding another award to its trophy case. The 2016 RCHS newspaper, The Rock, has been given a spot in the Crown finalist list presented by the Columbia Scholastic Press Association. Not only does the award represent the hard work of the RCHS students, but it also represents a great literary accomplishment for both the community and the state of Colorado.
The Rock is one of 24 printed school newspapers to be nominated for a Golden Crown award, on top of its already-existing Crown Award (which was achieved when receiving the finalist spot). On top of this, it is the only school newspaper in the state of Colorado to be featured. The finalists are judged on overall excellence in many areas, including photography, overarching design, coverage, and writing. It is quite an honor for a high school to be recognized on a national level; the recognition helps the community as well.Connor Fuchs, editor and Castle Pines resident, stated, "I think that this award will affect our community as I think it shows people that high school newspapers can be just as informative and thought provoking as major newspapers around the state and country." Winners are still pending and will be announced at New York's Columbia University in March.
A newspaper is such an influential and essential part of any community, whether it be local, national, or school-wide. The Rock staff has been a constant presence in the school and all of its activities. All members are always extremely flexible and willing to help in anyway they can such as staying after school to take pictures, making it to school events and games to gather information for an article and interviewing countless students and teachers to get the quotes they need.
The Castle Pines community is very proud of the accomplishments and strides these students and staff have made towards their newspaper.Without a supporting community behind them, it would have been much harder to reach their goals. Congratulations once again to Jaguar writers, editors, photographers, and newspaper staff!
Editor's note: It is a privilege to have intern writers from The Rock working with The Castle Pines Connection; thanks for your participation.