September 1, 2019
/
/
Comments Off

on The Torscher bunch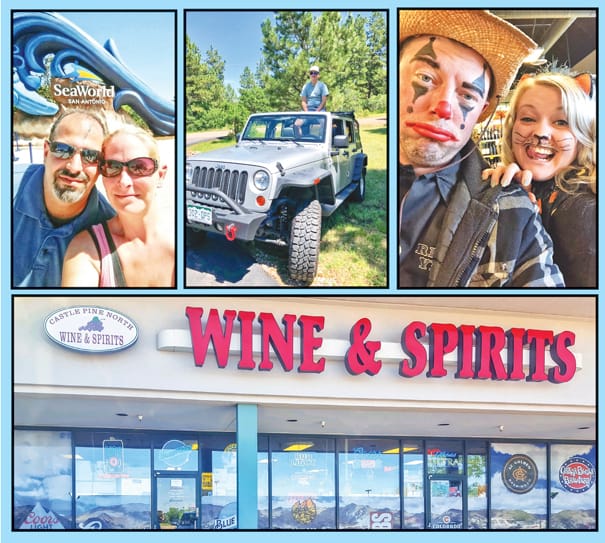 Family and friends all help out at Castle Pines North Wine & Spirits. From the left, James Kilbourne and Angela Zirger, the Torschers' nephew Austin Sloat, Lance Vlasman and the Torschers' daughter Shauna.

By Susan Helton; photos courtesy of Cheryl Torscher
Colorado native Gary Torscher is co-owner of Castle Pines North Wine & Spirits. His sister-in-law Tammy Sloat is his partner in the business.
Gary first met his wife Cheryl, another Colorado native, on the train to Glenwood Springs when they were 15 years old. "My first and third wife," Gary said with a laugh. He and Cheryl dated through high school, married two years after high school, and divorced two years later. "First boyfriend, first girlfriend," said Gary. They were apart for 15 years, then got back together 24 years ago.
When Gary proposed to Cheryl again, he did a 'this is your life' skit at her workplace. "At the end," Gary said, "all the kids brought up a tiara, candy and flowers and a big diamond ring, and we made up this story (sung to"The Brady Bunch" theme):
Here's the story… of a boy and a girl
Who got married while they were very young.
They got divorced… two years later for stupid reasons.
Nobody really knew why.
They were apart… for 15 years.
They had both started families of their own.
Then one day… Gary heard about Cheryl.
She was divorced and had three very handsome boys.
He decided… he had to find her
Just to see if there were feelings there at all.
When their eyes met… and their hands touched They knew that it was more than just a hunch.
Gary had two girls. One was precious.
The other was the craziest of all.
They knew they must form a family.
That's how they all became the Torscher bunch!"
Then Gary proposed. "There wasn't a dry eye in the place," he recalled.
Away from the business, Lake Powell is the Torschers' favorite destination, although they get to visit less often than they would like. "We love Lake Powell," Gary said. "I do a lot of gambling at Vegas. Lake Powell is where we normally go. We own a houseboat there."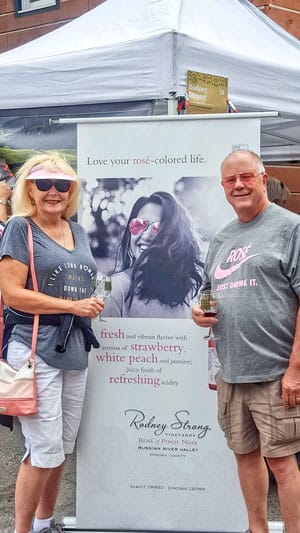 Gary Torscher and his wife, Cheryl, at a recent wine tasting in Keystone.

Before the liquor store, Gary worked a variety of other businesses. His first business was at the age of 12. "Lawn mowing, snow shoveling, all that kind of stuff," said Gary. After that, he worked in the grocery business. "For nearly every grocery store in town," he said. On a visit with his uncle in Montana, Gary got the idea of selling sausage sandwiches from a cart. In the mid-1980s, he opened "TNT Sausage Express," a sausage cart in Breckenridge, for one winter. "They kept telling me I needed to put it into a restaurant. So I opened a restaurant in Morrison called TNT Country Kitchen," Gary said. "I was there for 32 years."
Gary also opened a bakery and ice cream parlor in Morrison, which he sold two years ago, along with the restaurant. Roughly 12 years ago, Gary took over Castle Pines North Wine & Spirits from his former Coors representative. "That's how we got into this business," said Gary. "We love it here. It's great!"