"Wildcat Corner" unveiled in The Village at Castle Pines
May 1, 2019
/
/
Comments Off

on "Wildcat Corner" unveiled in The Village at Castle Pines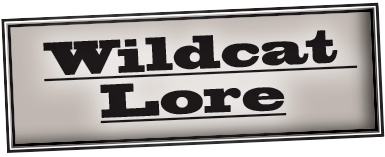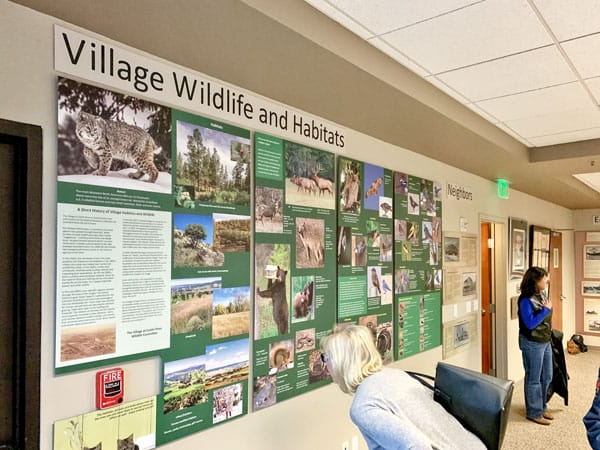 By Joe Gschwendtner; photos by Terri Wiebold
In late March, the formerly bare-walled community room at the Castle Pines Homes Association building received a makeover. A once humdrum meeting space, it now includes a mini-museum focusing on the first 100 years of Wildcat Mountain history.
No small project, the curation began from scratch. The process was inspired by resident turned local historian Joe Gschwendtner and his "Wildcat Lore" segment in The Connection newspaper. Managed by Gschwendtner's wife, Barbara, and underwritten by The Village at Castle Pines, the walls came to life by exhibitors who were drafted from a rich vein of local talent.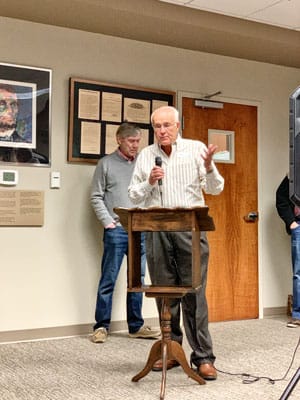 Gschwendtner's presentation noted that we lived in a "paradise" of wooded highlands, intermittent streams … amidst abundant wildlife. But it wasn't always so. While today's citizens have the luxury of nuanced, fulfilling lives, the frontier life of homesteaders was quite raw, about survival and sustenance. His goal: to present the story of western expansion in these parts and foster a greater appreciation for those who preceded us. Perhaps his most salient comment was, "That which we enjoy today is only what remains from yesterday."
The room-encompassing project begins with the Homestead Act of 1862, offering free land to anyone who would live on it five years, improving it in the process. Even before the Civil War ended, the Act precipitated a rush to these parts by immigrants, former slaves, displaced southern farmers and fortune seekers. Remaining exhibits are diorama-like, taking one on a journey around the room. We learn of the early economy: logging, farming, ranching, quarrying and railroads. Next is a brief history of one-room schools, testimony and memorabilia from area facilities.
Separately, tribute is paid to two environmental titans. But for their efforts at saving land, wildlife and trees, our corner of the world would have been more like "paradise lost." John Manley Chase's and Tweet Kimball's stewardship are brilliant stories of altruism needing to be told and shared.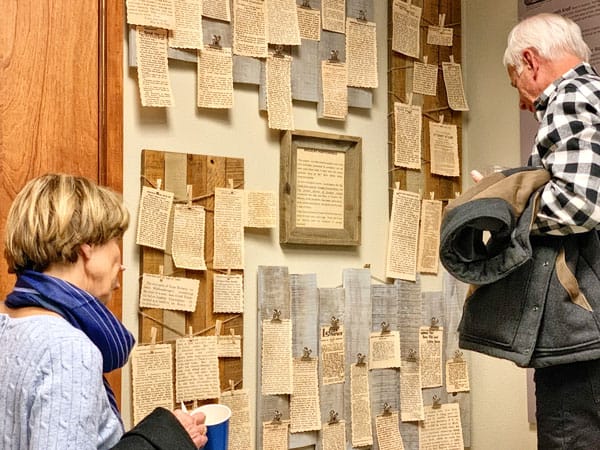 In a corner all its own, the exhibit has news clippings of the period, making for fascinating, riveting reading. One might, cry, chuckle, laugh or be stunned.
The centerpiece is a map wall where the whole of the Wildcat Corner (The Village at Castle Pines, the City of Castle Pines, Surrey Ridge and Happy Canyon) is featured on a before-and-after basis. A Google aerial view of the area is juxtaposed with an annotated Bureau of Land Management homestead map with names and title dates of original owners embellished with today's hardscape. The map is cross-referenced with pioneer history and happenings in the immediate area.
A separate wall weaves the story of airmail flight and night navigation in the 1920s. This is because a 51-foot tower once stood tall over the Wildcat Corner, guiding pilots on the dangerous Pueblo-Cheyenne route. Its base still remains today.
Some may argue, though, that the wildlife wall trumps it all. Using National Geographic quality pictures all taken locally, the interior wall speaks to the variety of wildlife living in natural balance around us. Not to be missed!
Drop in to see the displays at 688 West Happy Canyon Road, as they are rich in education and entertainment value. Call ahead at 303-814-1345 to ensure access.
To view a slideshow of the premier, visit castlepinesconnection.com and click on "Photo Album."